Queen University strike savings to fund student services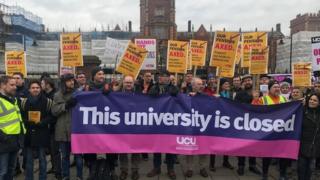 Money deducted from the salaries of striking staff at Queen's University Belfast (QUB) will be used to pay for a number of student services.
The details were outlined in a joint letter to students.
Hundreds of lecturers at the university were on strike for 13 days in February and March 2018.
The university had previously said that students whose classes were disrupted as a result would not receive compensation.
The letter from from the acting vice-chancellor, Professor James McElnay, and the Students' Union president, Stephen McCrystall, acknowledged that many students had been "affected by the recent industrial action".
It also outlined where the university will spend some of the money it deducted from striking staff.
These include paying for additional staff in the students' union advice service, which gives financial, educational, accommodation and health and wellbeing advice.
A graduate enterprise officer will also be funded to provide students with business and entrepreneurial skills.
"Funding will also be provided to deliver a campaign aimed at supporting mental health, challenging negative stigmas and encouraging greater discussions around the issue," the letter continued.
"Resources will also be provided to schools to support postgraduate students through the provision of masterclasses and dissertation workshops."
However, the letter does not outline how much money the university collected from the salaries of striking staff or how much it is to spend on the new posts and initiatives.