Hundreds of volunteer rescues in a year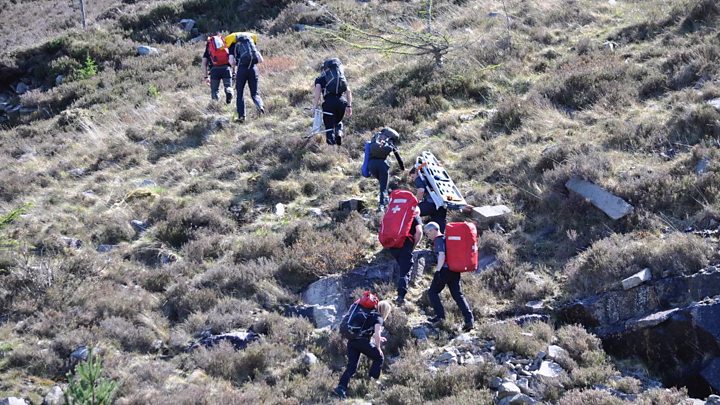 Voluntary search-and-rescue groups in Northern Ireland responded to more than 500 emergencies in a 12-month period.
The highest number of call-outs in 2016/17 were in County Londonderry, the BBC has learnt; more than half of those incidents were on the River Foyle.
The Department of Justice (DoJ) has awarded £84,000 of funding to nine voluntary groups across NI.
The groups are regularly called upon to assist emergency services when people are in distress or imminent danger.
"High risk missing person" incidents were the most common type of emergencies to which voluntary groups responded, DoJ figures show.
Other incidents included mountain and cave operations, as well as animal rescues.
'Lives lost to the river'
Between April 2016 and March 2017, voluntary search-and-rescue groups were dispatched 544 times across Northern Ireland.
The groups were called upon for emergencies in Derry 218 times.
More than half of those incidents related to operations on the River Foyle, one of the coldest and fastest flowing rivers in Europe.
Local charity, Foyle Search and Rescue, was involved in the majority of the operations on the River Foyle.
"During 2016/17 our Emergency Response Team made many rescues from the river as well as persons removed from the river's edge," said Foyle Search and Rescue's Pat Carlin.
"Sadly, there were seven lives lost to the river, and (bodies) recovered by our teams during this period."
Foyle Search and Rescue operates a suicide prevention and rescue service.
"There are various social issues that contribute to the number of incidents we deal with, but our main focus is the preservation of life and to support the emergency services," said Mr Carlin.
'Work tirelessly'
The Community Rescue Service (CRS), which is involved in lowland and waterways rescues throughout Northern Ireland, had the most call-outs, at 263.
Mourne Mountain Rescue responded to 53 emergencies during 2016/17.
The latest funding of £84,000 to the nine voluntary groups includes a contribution of £41,000 from the Department for Communities.
Announcing the funding, DoJ Permanent Secretary Nick Perry said: "This latest funding award provides direct support to the hundreds of volunteers who tirelessly work to help keep our communities safe.
"Supporting the Maritime Coastguard Agency and the Police Service of Northern Ireland, volunteers provide 24-hour front line support to answer the calls of those in need.
"While funding supports the purchase of much needed lifesaving equipment, the volunteers take with them our admiration and thanks."