Mike Pompeo 'has not considered' NI envoy requests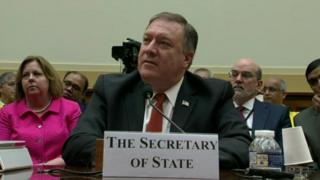 The US Secretary of State, Mike Pompeo, has said he has not considered requests by members of Congress to appoint a special envoy to Northern Ireland.
He was questioned about it by Irish-American Congressman Brendan Boyle.
Mr Boyle said 32 members of the House of Representatives wrote to Mr Pompeo in support of a new envoy and it was "concerning" he had not considered it.
In February, Mr Pompeo's predecessor Rex Tillerson said the US had a list of names under consideration for the role.
Previous US special envoys to Northern Ireland have included former US Senator George Mitchell, who helped broker the Good Friday Agreement.
Influential Irish Americans have been lobbying the Trump administration for months to restore the envoy post in a bid to help salvage the power-sharing government in Northern Ireland.
Belfast's devolved government collapsed almost 18 months ago, and several rounds of talks between the Democratic Unionist Party and Sinn Féin have ended in failure.
'Consequences of Brexit'
Mr Boyle, whose father is from County Donegal in the Republic of Ireland, told Mr Pompeo that the 1998 peace accord was "one of the great achievements of American foreign policy".
He said there were worries in the US and Europe and that "one of the unintended consequences of Brexit might be the ripping up of the Good Friday Agreement".
The congressman asked the secretary of state if he or President Trump would agree to appoint a new envoy to Northern Ireland.
Mr Pompeo said: "I don't know, I haven't considered it. I'm happy to review your letter."
Mr Boyle interrupted him by saying: "That is very concerning. As I mentioned 32 members of Congress have written on this issue I believe we've previously been given positive indications that it was under consideration.
"So the fact that this issue hasn't been considered by the leadership of the secretary of state - I would urge you to please consider it and to do so promptly as the negotiations right now are at a tenuous point. "
Mr Pompeo replied: "I'm happy to do that."