Approval for £55m Belfast office block unlawful, court says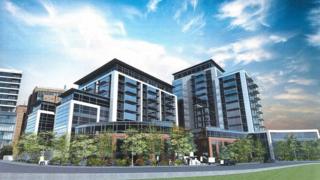 The approval to build a £55m office block next to an inner city housing district in Belfast was unlawful, a court ruled today.
The High Court ruled that council planning officials failed to take relevant considerations into account when they granted planning permission.
The proposed development is up to 14 storeys high in the Markets area.
Campaigners have claimed it will impact on their rights to privacy.
Jubilant residents and campaigners packed into the courtroom and cheered and applauded as Mr Justice McCloskey delivered his verdict.
A further hearing on whether to formally quash the decision will now take place next week.
'Sunshine not skyscrapers'
Members of the Markets community brought the legal challenge against Belfast City Council for giving the go-ahead to the development at Stewart Street and East Bridge Street, near Central Station, last year.
The planned 26,000 square metre Grade A office block is expected to create 350 construction jobs and generate permanent employment for 2,500 people.
But more than 200 households in the adjoining neighbourhood objected to the plans.
Insisting it would be invasive and overshadow homes in the inner city area, they mounted a campaign under the slogan 'sunshine not skyscrapers'.
One resident, Elizabeth Conlon, issued judicial review proceedings on behalf of a wider group within the Markets community.
An office tower on such a scale is in stark contrast to the traditional two-storey social housing in the area and inconsistent with its sense of community spirit, according to their case.
'Erred in law'
During two days of arguments lawyers for the Markets residents contended that officials who approved the construction were misinformed and failed to properly assess the impact on the area.
Further points centred on the impact and legal status following a separate case connected to the Belfast Metropolitan Area Plan (BMAP).
Those proceedings resulted in the BMAP being left in draft form and the Belfast Urban Area Plan (BUAP), which was its predecessor, remaining the statutory planning blueprint.
Mr Justice McCloskey said council officials failed to properly consider BUAP in reaching their decision.
"The legal consequence was that the planning committee erred in law by effectively treating BMAP as the adopted area plan for Belfast," he said.
Residents also succeeded on a second ground based on a Planning Appeals Commission recommendation that the site should be zoned for social housing.
The judge said that meant the decision to approve the office development was not fully informed.
Sinn Féin MLA Máirtín Ó Muilleoir, who accompanied residents in court, said the ruling was "a brilliant decision for all of those who believe in a shared Belfast with space for everyone".
He added: "It's a thumbs up for a Belfast with an inclusive plan for development and regeneration."
Lawyer Nicholas Quinn of Ó Muirigh Solicitors, who represented the residents, said: "The judgment represents vindication of Mrs Conlon's decision to take these proceedings."