'Evil' sex abuse monk 'should spend longer in jail'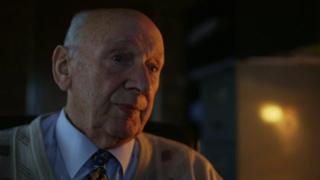 A further complaint has been received in connection with a 90-year-old former monk who sexually abused three boys, the Court of Appeal heard today.
Judges were also told Vincent Lewis made financial contributions towards compensation paid to victims.
The prosecution wants his sentence increased, arguing his nine-and-a-half-year term was unduly lenient.
Lewis was formerly Brother Ambrose of Our Lady of Bethlehem Monastery in Portglenone, Co Antrim.
He pleaded guilty to more than 50 offences committed over a 10-year period up to 1983.
Lewis abused one boy while still a monk, and targeted the others after marrying and moving to Annagher Road in Coalisland, County Tyrone.
Following conviction the trial judge said he had inflicted lifelong damage and pain on victims who had lost their right to innocence.
'Evil monk'
The judge added that unlike the many good clergy within the church, Lewis was "an evil monk".
Earlier this year he was jailed and ordered to complete a further year on probation.
But prosecutors have now launched a bid to have the sentence increased.
Discount
They contend that too much discount was given because of his age.
A senior lawyer told the court: "The starting point in this case was too low."
Lewis's barrister countered that he has apologised to one of the complainants and expressed regret for his actions.
The court also heard civil proceedings were brought against the monastery in around 2005.
It paid for counselling work in an attempt to alleviate the impact of the abuse one one of the victims.
Compensation
"The accused was asked to contribute financially to that and he did so," his lawyer said.
"We are told the amount of compensation was very substantial, and the accused himself contributed on three or four occasions financially to that compensation.
"It doesn't appear to have been large amounts, a matter of hundreds (of pounds), but nevertheless he did contribute."
'Low-level'
The three appeal judges were told a further complaint has been received within the last month.
"I'm told it's a relatively low-level," defence lawyer added.
According to the prosecution the alleged incident relates to a period between 1983-85.
Reserving judgment on the appeal, Lord Chief Justice Sir Declan Morgan said there would be a decision before the end of June.