River clean-up underway after slurry spill near Omagh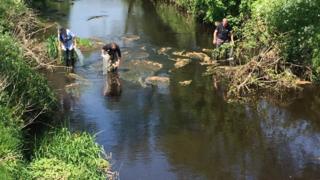 A clean-up operation is underway to assess the damage caused by a major slurry pollution incident in County Tyrone.
Anglers have spent the morning recovering dead fish from the Owenreagh and Drumragh Rivers near Omagh.
It follows the spillage of at least 100,000 gallons of slurry from a ruptured concrete lagoon on a farm in the Dromore area.
Loughs Agency staff are assessing the river downstream of the incident.
Their investigations will work out the impact on populations of salmon, trout and other fish.
The agency is also trying to establish what caused the wall of the slurry lagoon to collapse.
It's understood it was a relatively recent construction.
On Thursday, the Loughs Agency estimated that up to 15 miles of water has been affected.
The Drumragh River, which the Owenreagh runs into, is an important salmon and trout spawning ground.
Specialist equipment is being used to aerate the water in an attempt to mitigate the impact.
Samples have been taken with a view to prosecution. The Loughs Agency is investigating, supported by the Environment Agency.
The incident was reported to the agency on Wednesday.