Irish border: Ex-taoiseach wants issue solved by June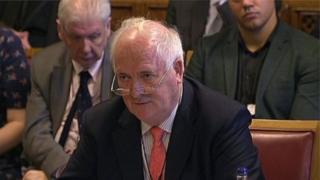 Former taoiseach (Irish prime minister) John Bruton has said disagreements about the Irish border should be tackled at an EU summit next month.
The EU and UK remain at loggerheads over the issue.
Brexit Secretary David Davis has indicated that the details might not be addressed until another gathering of EU leaders planned for October.
However, Mr Bruton told BBC News NI that by then "there would be no time left to pick up the pieces."
Mr Bruton, who served as taoiseach between 1994 and 1997, told BBC Radio Ulster's Inside Politics: "There's usually a crisis in virtually every negotiation, and this is the most complicated negotiation I have ever had any knowledge of.
"If there's to be a crisis it's better to have it early, because then you have your crisis, you face your moment of truth, you realise what's really at stake, you realise that the other side is not going to blink in the way you'd thought they would blink."
The former taoiseach argued that "all sides need time after the crisis to draw the conclusions from the crisis.
"So having the crisis in June is probably better than having it in October or December," he said.
"Kicking the can down the road sometimes make sense in politics. I don't think it makes sense in this case, at this time."
'Pig headed'
Owen Paterson, the former Northern Ireland secretary, told Inside Politics he believes there are a lot of practical solutions to the problems posed by cross border trade, but he claims there is "a pig headed refusal to look at them in detail", prompted by the EU.
Mr Paterson said Brexit has been a "terrible shock to the political establishment in Dublin".
He insisted he worked well with senior Irish politicians, finding them to be highly skilled and competent, when he was Northern Ireland secretary.
But he now thinks "there is some sort of blockage" preventing any consideration of technological options.
'Hard issues'
But Mr Bruton rejected criticism from some pro-Brexit politicians that the current Taoiseach Leo Varadkar has adopted a more obstructive role than his predecessor Enda Kenny.
The Fine Gael politician said that when Mr Kenny was dealing with Brexit the negotiations were at "a formative stage and Britain was working out its positions and the rubber hadn't really hit the road".
But Mr Bruton said that not long after Mr Varadkar took over the "hard issues, because of the time limit, had to be faced.
"The position that Leo Varadkar has taken would no doubt have been taken by Enda Kenny or indeed by any other Irish taoiseach, and it would be a mistake by British political analysts to personalise this," he said.
The former taoiseach said the fundamental point about the Brexit talks is that the European Union is "a system of rules made by a single institution."
Mr Bruton believes UK public opinion and those who support Britain's departure from the EU do not seem to understand the rule-based character of the EU and they are "in a way only discovering what the EU is now they are leaving it".