North Belfast: Woman intimidated from home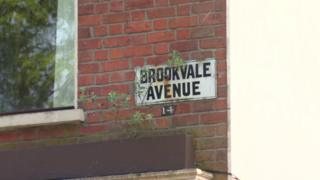 A woman was intimidated from her home by a large group of youths in north Belfast on Saturday night.
Police received a report of burglary and criminal damage at around 21:20 BST in the Brookvale Avenue area.
Prior to the incident officers had received reports of anti-social behaviour in the same vicinity.
Residents of the Oldpark area complained that around 100 youths were "banging on doors, drinking and running up and down the street".
Inspector James Murphy said officers attended the woman's address and were told by the householder that the front door and an inner door had both been damaged.
'Issuing appeals'
They were told that a group of youths had gained entry.
"The resident of the house, a lady in her fifties, was upset by the incident and police put her in touch with social services to make other accommodation arrangements," Insp Murphy said.
The woman is believed to be a refugee of Sudanese heritage.
Police have said they are issuing appeals and are "asking parents and guardians to ensure they know where their children are, what they are doing and who they are with".
'End of their tether'
SDLP Councillor Paul McCusker has condemned Saturday night's acts of anti-social behaviour.
"Residents are at the end of their tether with this on-going behaviour dominating the area at weekends," Mr McCusker said.
"All residents, no matter class or creed, have the right to live in peace, free from intimidation and fear. I would urge the teenagers and young adults partaking in this disruption to stop and think of the
consequences."