Bombardier secures deal for up to 60 Belfast-made jets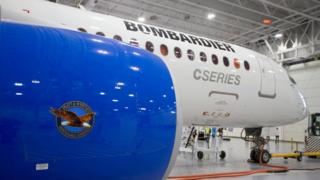 Bombardier's Belfast workforce has received a boost with an airline placing an order for up to 60 C-Series aeroplanes.
The aerospace firm employs around 4,000 workers in Northern Ireland.
As part of the new deal with Latvian carrier airBaltic, Bombardier will produce 30 CS300 passenger jets with an option for a further 30.
Bombardier also announced that two additions to their business jet fleet would be part-made in Belfast.
The company currently has responsibility for the forward fuselage, engine nacelles, horizontal stabiliser and other components on the Global 5000 and Global 6000 business jets, and the composite horizontal stabiliser and other components on the Global 7000.
The latter will be renamed the Global 7500 following the launch of the new planes.
'Unprecedented'
Bombardier says the new planes, the Global 5500 and Global 6500, will feature "unprecedented levels of innovation and comfort".
More than 2,000 hours of flight testing has already been carried out, as well as all major structural testing. The aim is to have the aircraft entering service towards the end of 2018.
"The rigour and innovation behind our Global 7500 aircraft design and test programme have allowed us to deliver enhanced performance without compromise," said Stephen McCullough, Bombardier's vice president of integrated product development for the Global 7500 and Global 8000.
Trade dispute
In January, politicians and union leaders welcomed a ruling which stopped the US imposing huge 292% import tariffs on Bombardier planes.
In a surprise ruling, the US International Trade Commission (ITC) rejected the complaint brought by Boeing.