Enniskillen: Man shot in head with air gun at marina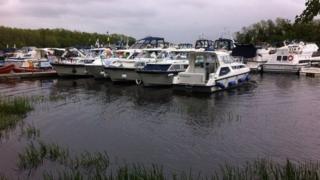 A man has been shot in the head with an air gun as he was out on the water at a marina in County Fermanagh at the weekend.
He was hit at about 22:10 BST on Friday at Lochside Marina, Enniskillen.
Police said the man was expected to make a full recovery.
However, they have issued a warning about the dangers of using such guns.
"The use of any firearm, including pellet guns, carries a huge responsibility, and should not be carried on land without the landowners permission," a police spokesperson said.
"There is also massive potential to cause injury to others if they are not treated with respect, even if it is unintentional."