Bangor pupils granted extra places at oversubscribed school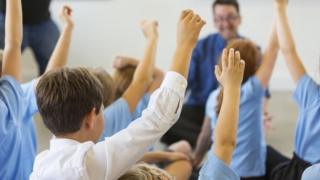 Forty extra places have been made available at an oversubscribed secondary school in Bangor.
A number of pupils in the town were left hugely disappointed and facing an hour-long commute after failing to get a post-primary place at Bangor Academy.
The school's request to accommodate 40 named children was approved due to the "unique circumstances", the Department for Education said.
Strangford Integrated College has also been granted 19 extra places.
Strangford MLA Peter Weir said he met education officials last week to discuss the pupils who had not been offered a place at a single school of their choice.
"This will greatly ease the pressures in the North Down and Strangford areas and come as a great relief to many families who have been left with much worry and disappointment," he said.
He praised the department's "common sense and flexibility" but warned some families may still be facing problems.
'Uncertainty'
Alan Chambers, the Ulster Unionist Party's North Down MLA, welcomed the move and said he would continue to work with the department "to help those pupils and their parents who are still trying to secure places in local schools".
Steven Agnew, Green Party MLA, said: "The move by the department should solve the matter for most families, but I'll continue to work with those still seeking a resolution".
Some of the pupils affected in Bangor had been offered places at schools in Newtownards and Portaferry.
Earlier this month, Bangor Academy's principal Matthew Pitts told BBC News NI that the school was refused two requests for a temporary variation in numbers because there was another controlled school within a "reasonable distance".
A reasonable distance is defined as a journey of one hour or less, and no further than 15 miles from the pupil's home.
A Department of Education spokesman said: "Previous requests from the school, made during the transfer process, had been turned down in line with policy.
"In light of the scale of oversubscription this year in the area and the uncertainty that may have been caused had the request not been approved, the department has decided that it was appropriate to approve the most recent request."