Abortion in NI: PM stuck between Tory rock and DUP hard place
By Gareth Gordon
BBC News NI Political Correspondent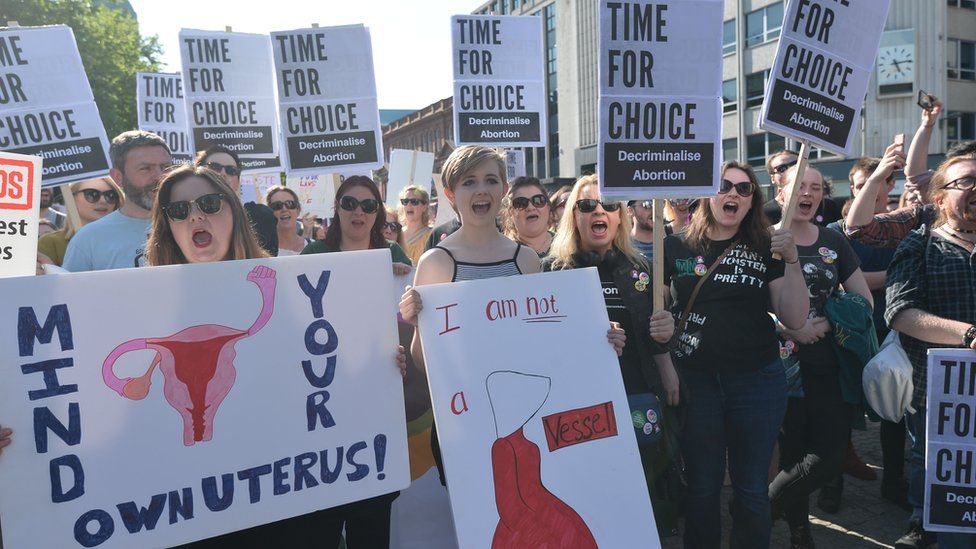 Take something that has happened in the Republic of Ireland; add something that is not happening at Stormont and stir in something that appears to be taking on a life of its own at Westminster. And keep watching.
It is not often in this post-Troubles era that Northern Ireland takes centre stage in the House of Commons but that is what is happening now.
It has been brought by Labour MP Stella Creasy, who told them the impact of the Irish referendum had been "felt around the world" and had "thrown a spotlight on the situation in Northern Ireland".
So far so what, you may say, in a world where the avowedly anti-abortion Democratic Unionist Party (DUP) is sustaining Theresa May in government.
The DUP's North Antrim MP, Ian Paisley, tweeted: "The real agenda is to remove the offences against the people act to make abortion available right to point of birth in GB. NI being used as a convenient footstool!"
But the interesting thing to watch is the support Ms Creasy's move appears to be garnering on the Conservative benches.
Mrs May met Conservative MPs pressing for changes to Northern Ireland's laws before the emergency debate was granted.
They included ex-ministers Amber Rudd, Maria Miller and Justine Greening, as well as Minister for Women and Equalities Penny Mordaunt.
Consider them to be the rock; the DUP the hard place, and either way you look at it Theresa May is stuck.
On one hand, her motivation for resisting calls to intervene to change Northern Ireland's abortion laws is obvious - for one thing she does not want to upset the DUP apple cart.
On the other, where will this apparent Conservative revolt (if that's what it is) end - and how big must it grow before she cannot resist it any longer?
And then there is the DUP itself. It possesses the nuclear button of threatening to bring down the government.
But press it and we could be looking at (in DUP terms) a post-apocalypse world in which the Labour party is in power and Jeremy Corbyn is prime minister.
They will think hard before risking that scenario.
When pressed on the issue on BBC Radio Ulster, one of the party's more liberal voices, the former health minister Simon Hamilton, said: "I would welcome the debate but I would want to hear all sides put forward in that debate. I would want to see it as an evidence-based debate."
But over and over, he stressed abortion was an issue for Stormont.
Power-sharing government at Stormont, of course, does not currently exist.
The DUP wants Westminster to take more decisions over Northern Ireland - in all but the areas in which it fears Westminster intervention would not necessarily deliver the outcomes the party wants.
They will know Ms Creasy is not to be underestimated.
She put down an amendment and ministers conceded without a vote, fearing enough Tory MPs could support it leading to a defeat.
The emergency debate will not lead to a change in the law but will allow MPs to air their views.
It is, as they say, unlikely to end there.