Irish Presbyterians vote to loosen Scottish church ties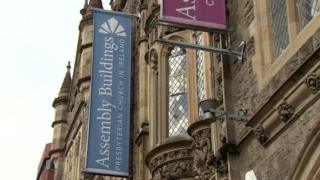 The Presbyterian Church has voted to loosen its ties with the Church of Scotland due to its more liberal attitude to same-sex relationships.
The vote was taken on Wednesday at the decision-making General Assembly in Belfast.
The vote was passed by 255 votes to 171.
The result means the head of the Church of Scotland (moderator) will no longer be invited to the annual meeting of the General Assembly in Belfast.
The current Moderator, the Rev Susan Brown, was there for the vote. She appealed for no change to the links between the churches but the vote went against her.
Following the vote the Rev Brown said she was saddened by the vote and that agreeing on everything was not what Jesus required of Christians.
'Reason to stay away'
She said she recognised that there were significant differences between the two denominations but said that move would harm Christianity:
"To a world which doesn't understand the nuances of particular theological stances, today's decision will be yet another reason to stay away from religion and from Christianity in particular.
"Just as members of a family hold differing views and will, from time to time, debate and argue, so the Christian family does the same - sadly today, the PCI has allowed those differences of opinion to drive a wedge between us," she added.
The lengthy debate on the issue meant that there was no vote on whether to adopt an official policy on same-sex couples and baptism.
That debate is now expected to be concluded on Friday.
The vote on links with the Church of Scotland followed a heated discussion.
Last month the Church of Scotland moved a step closer to allowing ministers to conduct same-sex marriages.
Its General Assembly backed a motion which tasked a committee with drafting church law on the issue.
The Presbyterian Church has more than 200,000 members in Northern Ireland and the Republic. It is the largest Protestant church in Northern Ireland while the Church of Scotland has around 340,000.
The Church's general assembly is also due to debate recommendations from its doctrine committee which indicates that a same-sex relationship does not match with a "credible profession of faith".
The committee concluded: "In light of our understanding of scripture and the Church's understanding of a credible profession of faith, it is clear that same-sex couples are not eligible for communicant membership nor are they qualified to receive baptism for their children.
"We believe that their outward conduct and lifestyle is at variance with a life of obedience to Christ."