Prime Minister repeats refuted legacy claim in Commons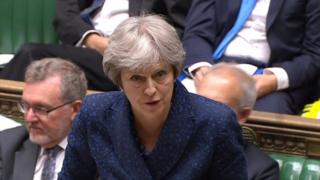 The Prime Minister has repeated her belief that former security force members are the "sole subject" of legacy investigations in Northern Ireland.
Figures obtained by the BBC last year and the Victims' Commissioner challenged Theresa May's claim when she first made the assertion last month.
She made the remark during Prime Minister's Questions on Wednesday.
She was asked to explore the option of a statute of limitations.
The question from Conservative MP Mark Francois, asked her if she would be prepared "at least to entertain some investigation of the concept of a statute of limitations to protect those who have served on the frontline".
The question was prompted by comments from the outgoing head of the armed forces, Air Field Marshall Sir Stuart Peach, on Tuesday.
He said he was deeply uncomfortable with veterans being investigated for what they did during the troubles but he stopped short of calling for a statute of limitations which he said was a political decision.
"What we do want to ensure is that we don't see our service men and women... and police officers being the sole subject of investigation, which is what is happening at the moment," the prime minister said.
"I want to ensure that terrorists are investigated for past crimes, as well.
"And that is why the secretary of state (for Northern Ireland) has launched the consultation on legacy issues." she added.
However, that consultation no longer includes the proposed statute of limitations - much to the anger of some Tory MPs.
According to the PSNI figures it is wrong to suggest that former security personnel are the sole focus of the legacy investigation as they account for about a third of the caseload.
The victims commissioner Judith Thompson said the Prime Minister was incorrect and poorly briefed when she made this claim in May and said there was no evidence former soldiers have been targeted unfairly.