NI paper review: Volcanoes and cross-border moonshine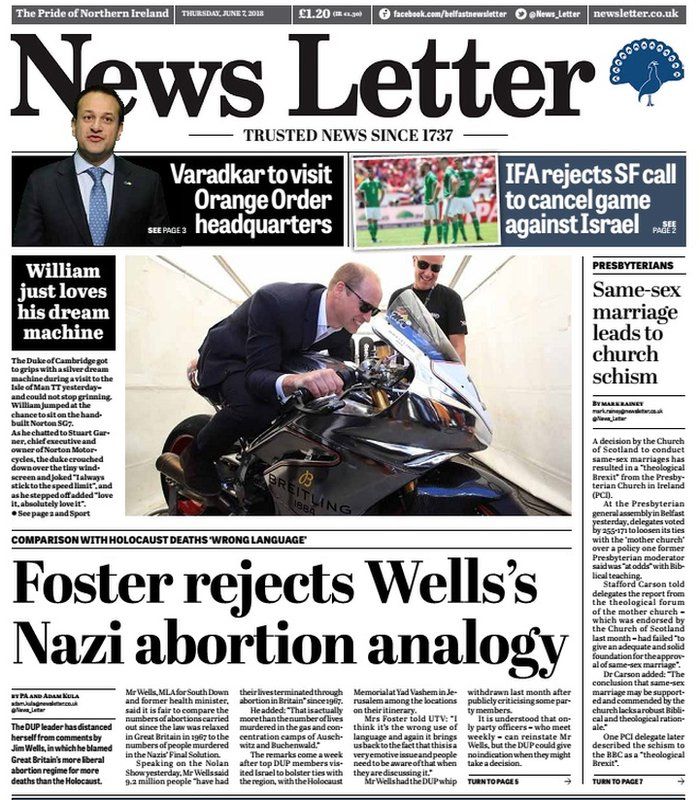 The aftermath of a volcano eruption, farm deaths and cross-border moonshine feature in Thursday's papers.
The 24-year-old fell to his death from the roof of an apartment block two weeks before he was due to be best man at his father's wedding.
His sister Beth Mason tells the paper the family has been left "devastated".
"He was the sort of person who would light up a room," she says.
The family has praised the Kevin Bell Repatriation Trust which helped bring his body home.
South Down MLA Jim Wells' comparison of the number of deaths from abortion in Britain to the numbers killed in the Holocaust is the lead story in the News Letter.
It says DUP leader Arlene Foster has distanced herself from Mr Wells' comments.
"I think it's the wrong use of language and again it brings us back to the fact that this is a very emotive issue and people need to be aware of that when they are discussing it," Mrs Foster said.
It quotes positive comments from the Ulster Unionist Party, Alliance, Sinn Fein, PUP and SDLP, although interestingly not from the DUP.
The paper also says some residents in east Belfast, where Schomberg House is situated, are less than enthusiastic about the visit.
"As a resident my view is that Leo Varadkar is not welcome in the Lisnasharragh area at all," one of them tweeted.
"Maybe they should rename themselves the Green, White and Orange Order?"
However, in its viewpoint the Telegraph compares Mr Varadkar's visit to the Queen's decision to lay a wreath at the Republic of Ireland's Garden of Remembrance and shake the hand of Martin McGuinness.
It says such gestures "set a new tone".
Both The Irish News and Daily Mirror have the story of Londonderry man Dean Kerlin's efforts to help survivors of the Fuego volcano eruption in Guatemala.
Mr Kerlin runs a hostel in the country has been using his van to bring supplies from Antigua.
He said everyone has been pulling together, including backpackers and holidaymakers, as well as local people who have lost everything.
"They have come from little towns, they are pretty poor, they didn't have an awful lot to begin with," he tells The Irish News.
He said a man driving one of the vans had lost four or five family members: "He was fighting back tears while he was driving to the market to buy supplies."
The paper, as well as the Belfast Telegraph, also reports that 11 children have died in farm accidents in Northern Ireland since 2000.
In the Telegraph, County Antrim man Wallace Gregg, whose son suffered a fractured skull when he fell out of a tractor three years ago warns: "An accident can happen in the blink of an eye. You have to be ultra cautious."
The paper's story is accompanied by a heart-breaking picture of four-year-old Maguiresbridge boy Thomas Magee, who died in an accident involving a digger last year.
The IFA's statement that it has no intention of calling off a friendly between Northern Ireland and Israel in September features in both the News Letter and Belfast Telegraph.
Sinn Féin South Down MLA Sinéad Ennis had met with football officials on Wednesday asking for the match to be cancelled over what she called the "massacre" of Palestinians in Gaza.
In the News Letter, the DUP's Gregory Campbell says it is "just the latest in a a whole series of anti-Israel statements that Sinn Féin have put out and the fact that they are now taking this into the football world is regrettable but not surprising".
Staying with sport, the Belfast Telegraph, says that former Ulster and Ireland star Paddy Jackson, who was cleared of rape in April, is close to signing for French side Perpignan.
Finally, with the Irish border very much in the news, The Irish News has the story of Fermanagh man Patrick Anthony McCaffrey, 63, who has been given a suspended sentence for selling illegal moonshine.
Mr McCaffrey sold his home-made poteen for £3 north of the border and five euros south of it.
A defence barrister said that after being forced to retire as a care assistant due to ill health, what started out as a hobby for Mr McCaffrey had "spiralled out of control".