Neuro inquiry to look at patient information sharing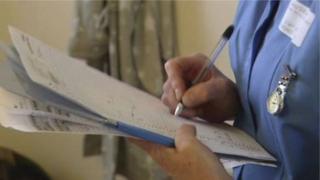 An Independent Inquiry into the recall of neurology patients will examine how various health agencies shared information about potential concerns relating to patient care and safety.
The Inquiry was launched after the Trust and two Independent clinics recalled over 2,500 patients.
The decision follows an independent review of patient notes relating to the work of Dr Michael Watt.
The Consultant Neurologist is not currently treating patients.
'Terms of reference
The Independent Inquiry comprises chairman Brett Lockhart QC and Dr Hugo Mascie-Taylor.
Mr Lockhart said: "I very much welcome the finalisation of the terms of reference and, in particular, the involvement of Dr Hugo Mascie-Taylor, who has significant experience in clinical governance.
"I am conscious of the level of public interest and concern and a preliminary report will be produced as soon as practicable with the final report issued on the completion and review of all other relevant actions initiated by the Department," he added.
Department of Health Permanent Secretary Richard Pengelly said: "I expect full co-operation with the panel inquiry's work right across the health and social care system."
The Terms of Reference of the Independent Review will look at a variety of areas including:
- The circumstances which led to the recall of patients in May 2018.
- The Belfast Trust's handling of relevant complaints or concerns, identified or received prior to November 2016.
- To identify any learning points and make recommendations to the Department concerning the above points.