Alliance Party's Nuala McAllister apologises over leaflet row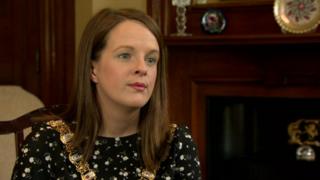 Former Belfast Lord Mayor Nuala McAllister has apologised after an investigation into a leaflet campaign which criticised other council parties.
The leaflets, distributed in 2016, depicted a jar of money and the slogan: "What have they got to hide?"
This referred to parties objecting to audio recordings of planning committee meetings being made public.
The two-year investigation was the local government watchdog's longest ever.
The target time for a Local Government Commissioner for Standards investigation is one year.
The commissioner received complaints from 31 unionist and nationalist councillors over the leaflets, who alleged that Ms McAllister had broken the councillors' code of conduct.
'Openness and transparency'
The leaflets were distributed in March 2016, nine months before Belfast City Council passed an Alliance Party motion pledging that all future meetings of the planning committee would be audio recorded.
Sinn Féin supported the motion but DUP, UUP and SDLP councillors opposed it and said they had received legal advice warning there would be penalties for councillors who made comments in error during planning meetings.
In her apology, published on the Local Government Commissioner for Standards website, Ms McAllister said her intention was to "promote greater openness and transparency in carrying out council business".
"It did not occur to me that the text and photograph taken together could be interpreted by individuals as alleging or implying corruption by councillors in the discharge of their council duties," she said.
She said she was apologising specifically to the members of the planning committee and those councillors who complained about the leaflets.
Ms McAllister added that she hoped councillors could "draw a line under this issue".
'Laughable were it not so serious'
The commissioner's website stated that the complaints against Ms McAllister had been dealt with under its alternative action policy.
It determined that her apology should be published on the website and she should also apologise in writing to each councillor who complained about the leaflets.
In a statement, the Alliance Party defended Ms McAllister's actions.
"Given recent revelations around how funding decisions were taken at council level and how government business was conducted at executive level, it seems entirely appropriate all public representatives should be concerned about the highest standards of openness and transparency.
"That a councillor holding others to account to protect against potential corruption and cronyism has to apologise for doing just that would be laughable were it not so serious.
"Regardless of any compromise reached in this case, Alliance will continue to speak out to protect the public interest and the integrity of decision making."
Ms McAllister's term as lord mayor came to an end on Monday.
The Local Government Commissioner for Standards was set up in 2014 following the introduction of the councillors' code of conduct.
Only four councillors in Northern Ireland have been found to have breached the code.