RHI Inquiry: Installers urged customers to 'order quickly'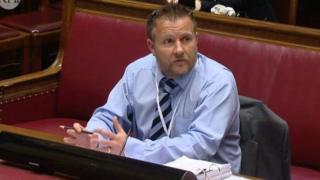 Renewable Heat Incentive (RHI) installers urged potential customers to order boilers quickly after officials told them about upcoming cuts in tariffs, a public inquiry has heard.
The Renewable Heating Incentive (RHI) scheme was set up in 2012.
An overgenerous offer of fuel subsidies meant it could cost taxpayers an extra £490m.
Civil servants thought it took months to put the equipment in, it did however actually only take a matter of weeks.
The inquiry heard on Friday that there was a "pyramid" effect as the information was "cascaded" by the biomass industry.
Inquiry counsel Joseph Aiken said it was not hard to see how a spike in applications had occurred.
Almost 900 boilers were included in the scheme in the months before tariffs were changed in November 2015.
It doubled the number of accredited applications and put huge added financial pressure at a time when the scheme's budget was already bust.
'Naive'
Enterprise official Stuart Wightman, who was running the scheme, was in contact with the biomass industry from the early summer.
Appearing before the RHI inquiry for a fourth time, Mr Wightman said he accepted it now seemed "naive".
Mr Wightman said neither he nor his colleague Seamus Hughes, who was also in contact with the industry, had been given any clear guidance on "what fell on what side of the line in terms of industry contact".
One biomass installer, Alternative Heat, circulated the information it was given on a group email to a number of other installers.
The speed with which the industry was able to use the information was revealed on Friday.
Within 24 hours of being briefed installers were contacting potential customers urging them to place orders to ensure they benefited from the most lucrative tariffs.
Over the summer, one company, FG Renewables, got approval from a customer, Dennison Commercials Ltd, to proceed with an order for 11 boilers.
The truck franchise ordered them on August 10th. They were installed and running within three weeks.
In an email to Dennison's, the installer urged them to get their order in saying: "This has all come to a head very quickly, we are receiving multiple orders for boilers.".
Mr Aiken said said the inquiry had other examples.
"This is one example of the pyramid, the downward dissemination of information to potential clients who are being encouraged to get into the scheme before these changes which are going to be to their financial detriment.
"That's being made very clear to them," he said.
'Departmental panic at overspend'
Earlier on Friday the inquiry heard that there was "panic" in the Enterprise Department as the extent of the financial crisis caused by a botched heating scheme emerged.
Stuart Wightman said they were unaware Northern Ireland taxpayers would be liable for total overspend.
Mr Wightman was responsible for the day-to-day running of the scheme.
He said he got an email from a colleague in the finance section in May 2015, telling him to stop accepting applications.
He believed that there would be a 5% financial penalty for breaching the budget.
However, it was much later before he realised that 100% of the overspend would have to be met from the departmental budget.
Mr Wightman said in May 2015 they still believed the project was worthwhile and they would be able to get extra money from Treasury to cover the bulk of the cost.
"At that stage, we were not alive to some of the risks that materialised," he said.
Despite their lack of understanding of the scale of the problem, officials began working up plans for cost controls.
They dropped a huge range of policy proposals they had put out to public consultation to concentrate on them.
But that policy change was not communicated to the minister Jonathan Bell - who had just taken over from Arlene Foster in the department.
'Sense of panic?'
The panel heard that such a radical change in a policy, which was in the executive's Programme for Government, ought to have been referred up to ministerial level for approval.
Inquiry counsel Joseph Aiken said Mr Bell was not told "we have a big problem".
Panel member Dame Una O'Brien, a former senior civil servant, said she found that "striking".
Inquiry chair Sir Patrick Coghlin asked whether the reluctance to bring it to Mr Bell's attention was due to a "sense of panic and the realisation that the department had made bad mistakes".
Mr Wightman conceded that "panic" was an accurate term to describe the mood at the time.
The department investigated the potential suspension of the scheme but was told they did not have the power to do it.
They were told they would have to amend the regulations in order to make any changes.