Man gets probation after shining laser pen at helicopter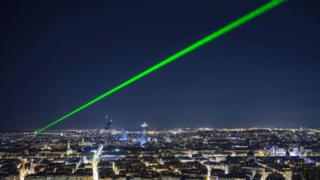 A Belfast man has been given a two year probation order for shining a laser pen into the cockpit of a police helicopter.
The incident happened as it provided crowd cover at a Northern Ireland international football match.
Belfast Crown Court heard that it was the second time Karl Barkley, 20, had been convicted of the same offence.
Barkley, of Crumlin Gardens, pleaded guilty to a single charge of recklessly endangering the safety of an aircraft.
A prosecution lawyer told Judge Gordon Kerr QC that on 5 October, 2017, the PSNI had deployed its helicopter to Windsor Park football ground where Northern Ireland was playing Germany in a World Cup qualifier game.
The helicopter captain said that as his crew was keeping an eye on crowds below, a laser pen was shone into the cockpit at an angle of 30 degrees, forcing him to move the Eurocopter away from the direction of the bright light.
He manoeuvred the helicopter back to its original position only for it to be hit for a second time by the laser pen. The helicopter captain was only able to see where he was going using navigational equipment.
The judge was told that before retreating to the safety of George Best Belfast City Airport, the captain and his two man crew were able to direct police on the ground to the source of the laser pen which was a house in Cambrai Street off the Shankill Road.
Mr Purvis said police went to the house, where Barkley then lived, and arrested him.
'Devastation'
He added that the defendant had a criminal record of nine offences and "has a previous conviction in 2015 for this type of offence".
Defence barrister John Connolly said Barkley had an IQ of 66 and at the time of the offence was self-medicating and smoking cannabis in his bedroom "out of boredom''.
Judge Kerr told Barkley that if his "serious offending'' had downed the aircraft, there was no doubt it would have "blown up and the impact of that would have caused devastation in a built up street''.
The judge said that Barkley also had ADHD (Attention deficit hyperactivity disorder).
He said that sending Barkley to prison "for a relatively short period would not help society or prevent further offending''.
The judge added that he intended to dispose of the case by way of a two year probation order to enable Barkley to receive supervision from the Probation Service to deal with his drug problems and to prevent further reoffending.
But Judge Kerr warned Barkley: "If you breach that order I can assure you you will brought back before me to be re-sentenced and you will go straight to prison.''