Belfast Zoo monkey dies following escape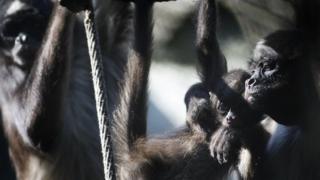 A monkey from Belfast Zoo has died after being hit by a car.
The spider monkey, which had escaped from the zoo on Saturday afternoon, was "clipped by a car" on the M2 in north Belfast that evening.
Zoo keepers had been tracking the monkey before the incident occurred. It was taken back to the zoo, but died shortly afterwards.
Belfast City Council said it was investigating how the monkey escaped its enclosure.
A number of people on social media said they had spotted a monkey in north Belfast.
"We are sorry to announce that a spider monkey, which escaped from Belfast Zoo on Saturday night, has died," said a spokesperson in a statement.
"We are currently investigating how the escape occurred from the monkey island on which the animals are kept.
"The monkey was being tracked by keepers when the accident occurred and despite being quickly taken back to the Zoo for veterinary assistance died shortly afterwards."
Previous escapes
In 2015, two lion-tailed macaques escaped from Belfast Zoo and two years before that incident, six lion-tailed macaques also escaped.
Staff scoured the locality for the escaped primates.
Zoo manager, Alyn Cairns, said that the whole episode was "really upsetting" for everyone at the zoo.
Mr Cairns said the spider monkey had only been in Belfast Zoo for four months and that there was a "combination of barriers and electric fences" which kept the animals secured.
"He had had only four months to get to know the female group so maybe the bond wasn't there," he said.
Mr Cairns praised the response of his staff and local residents, who tracked down the monkey on the Antrim Road, with the animal returned to the zoo for treatment "within half an hour" of the escape.
"It all happened in a very short space of time," he said, adding that it was not his view that the public was at any risk from the animal.
"At this moment in time we are not clear how he has got out. But what we will do is have a full investigation into how it got out."
The zoo manager added that the cause of the monkey's injuries was also not confirmed.
"The bruising would suggest he had a fall," said Mr Cairns.