Billy Caldwell suffers seizure after cannabis oil confiscated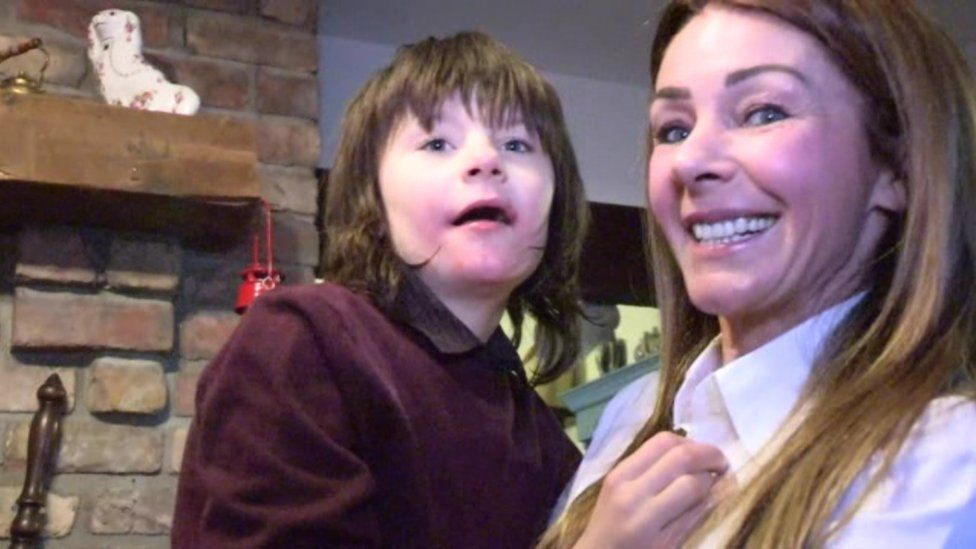 A 12-year-old boy from County Tyrone has suffered an epileptic seizure hours after cannabis oil brought from Canada was confiscated at Heathrow Airport, his mother has said.
Charlotte Caldwell said her son Billy had suffered a "small 30 second seizure", the first in almost a year, on Tuesday morning.
She has called on Home Office minister Nick Hurd to return the medication.
Ms Caldwell posted a video of her son having the seizure on social media.
Speaking on ITV's This Morning programme, Ms Caldwell said that prior to the most recent seizure, Billy had got to "just over 300 days seizure-free".
According to Ms Caldwell, the medication was stopped at 15:30 on Monday, and Billy suffered the seizure at just after 01:00 on Tuesday.
'Signed my son's death warrant'
"What I am really and truly shocked about here is the fact that a minister in the Home Office who is not medically qualified has just stopped - abruptly stopped - my little boy's anti-epileptic medication," she said.
"There is no doctor in our country or in any country in the whole world who would do that."
Ms Caldwell, from Castlederg, said that Mr Hurd had "actually signed my son's death warrrant".
"Nick Hurd needs to give him back his medication and at least have the decency to say to me 'right Charlotte, we will work with you'," she said.
Families 4 Access, a campaign group seeking access to cannabis medicines for UK children, tweeted its support for the Caldwells and urged followers to email the minister asking for the medication to be returned.
On Monday Ms Caldwell said she was "absolutely devastated" to have the supply confiscated after she declared it to border officials.
Ms Caldwell later met Mr Hurd at the Home Office to plead with him "parent to parent" to get the oil back.
"We had an honest and genuine conversation. I have asked him to give Billy back his medicines, but he said no."
She also warned of the dangers of Billy missing his dose of cannabis oil.
"The reason they don't do it is that it can cause really bad side-effects - they wean them down slowly," she said.
The Caldwells are also being supported by elected representatives, with Sinn Féin West Tyrone MP Órfhlaith Begley accompanying Ms Caldwell to the meeting with Mr Hurd.
"It is cruel and unfair that Billy and his mother Charlotte have had to travel to Toronto to get medication," she said.
SDLP leader Colum Eastwood MLA said the medicine should be "readily available" to Billy and "not the subject of political dispute around the illegalities of drug misuse."
"The battle for Billy's lifesaving drug could be avoided if only the Home Office would let common sense prevail," he said.
A Home Office spokeswoman said it was "sympathetic to the rare situation that Billy and his family are faced with".
"The policing minister met Ms Caldwell and advised her that despite these extremely difficult circumstances, it is unlawful to possess Schedule 1 drugs such as those seized at the border this morning without a licence," she added.
"The minister urged the family to explore licensing options with the Department of Health Northern Ireland."
He became the first person in the UK to receive a prescription after his local GP, Brendan O'Hare, began writing them.
The doctor was summoned to a meeting with Home Office officials recently and told to stop.