Belfast primary school pupils play alongside Ulster Orchestra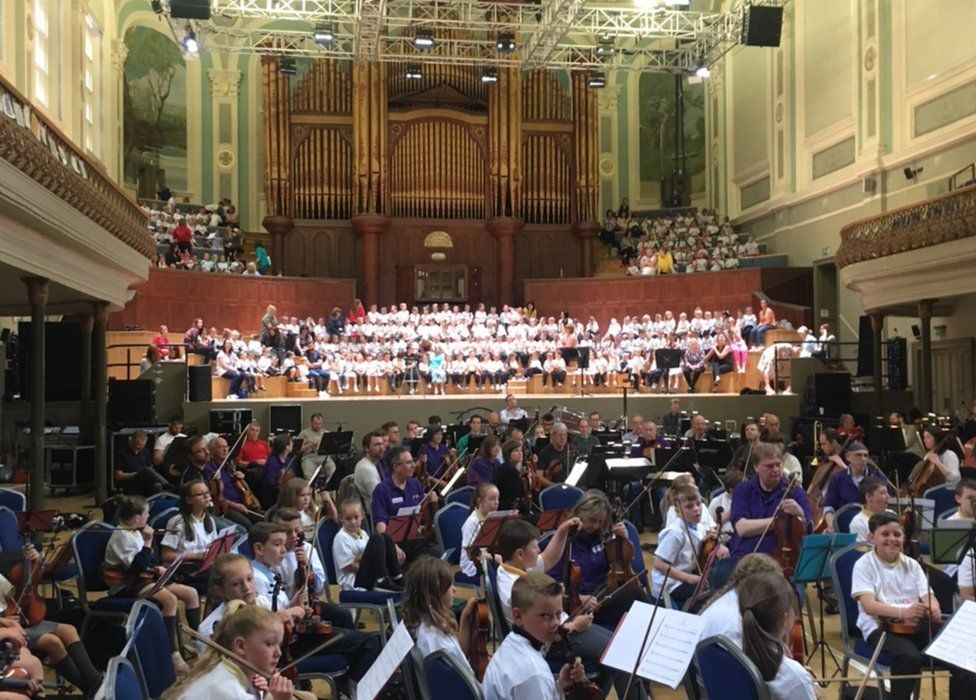 More than 300 Belfast primary school pupils have taken part in a school concert with a difference.
Children aged between five and 10 played alongside the full Ulster Orchestra in the Ulster Hall.
It was the climax of a year-long project in which pupils from four schools have been taught to play string instruments.
Orchestra members visited year 6 pupils regularly since September to teach cello, viola, double bass and violin.
Younger pupils in years 1 and 2 have been introduced to, and taught about, classical music.
The schools taking part were Malvern Primary School (PS), Wheatfield PS, Good Shepherd PS and Holy Evangelist PS.
All are based in relatively disadvantaged areas of north and west Belfast.
Seaneen Weir, from Malvern PS just off the Shankill Road, has been learning to play the violin, but admitted she did not previously listen to classical music.
"I like Queen, Freddie Mercury and Abba," she said just before stepping on the Ulster Hall stage.
"But I've played the violin and I was one of the first to take my violin home."
She and other year 6 pupils performed pieces from 'Pictures at an Exhibition' by the Russian composer Modest Mussorgsky alongside the orchestra.
Seaneen took her new instrument in her stride.
"Sometimes it's tricky, sometimes it's not - it depends what you're learning," she said.
"It depends how long the music is - if it's a wee short piece it keeps in your memory so you can play along."
Seaneen's teacher at Malvern PS, Joyce Allen, said that the school now uses music in other lessons.
"We have started to play classical music when they come in in the mornings," she said.
"When pupils do their silent reading they have classical music in the background so it has given them a great opportunity to become aware of different composers."
Ms Allen also said that learning to play an instrument had improved her pupils' confidence.
"For children who aren't overly academic this gives them an opportunity for success," she continued.
"We all have different skills, and they can play musical instruments and enjoy it."
Cellist Rozzie Curlett is one of the musicians from the Ulster Orchestra who has been visiting the schools on a weekly basis as part of the 'Crescendo' project.
"We go into the schools every Wednesday morning and the session usually lasts between half an hour and an hour," she told BBC News NI.
"We work with all the schoolchildren in a group. The idea this year is that we've been learning all these pieces to play with the orchestra."
That is what has now happened, with a special performance for teachers and parents from the four schools in the Ulster Hall.
Watching and listening to her pupils perform on such a stage made Ms Allen very proud.
"It's lovely for them to even come to the Ulster Hall as it's a venue that they wouldn't normally visit," she said.
"To be able to sit there and even feel part of the orchestra gives them a sense of belonging and achievement.
"They're very proud of what they can do."