Dunmurry Manor: RQIA accused of failing home residents
By Marie-Louise Connolly & Richard Morgan
BBC News NI Health Correspondent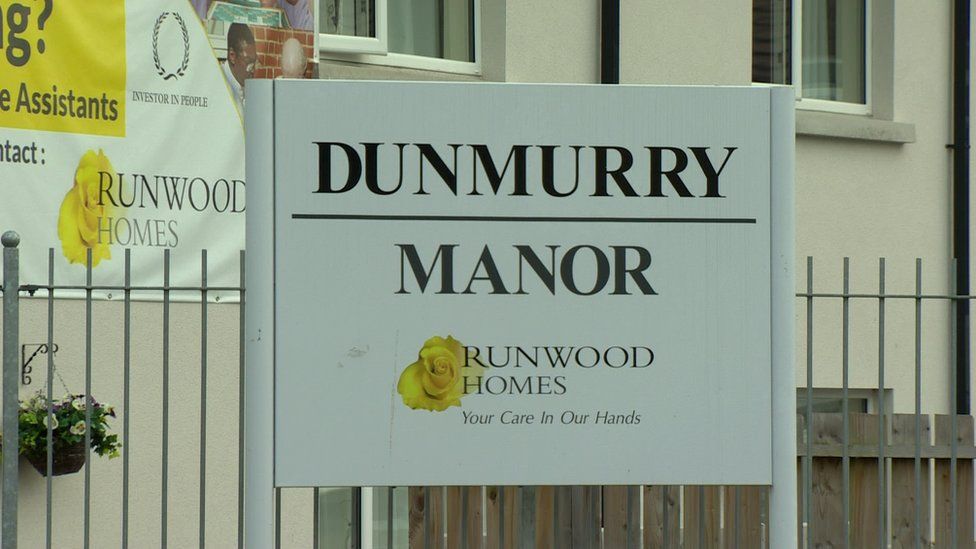 A health service watchdog has been criticised for not apologising following a damning report into conditions at a Belfast care home.
An investigation into Dunmurry Manor by NI's Commissioner for Older People found a "horrific catalogue of inhuman and degrading treatment".
The commissioner said the Regulation and Quality Improvement Authority (RQIA) had not taken sufficient action.
However, the RQIA denied failing its duty of care to properly investigate.
The fallout over Dunmurry Manor comes after the report by the commissioner published on Wednesday.
Earlier on Thursday, it emerged that a former resident's family was taking legal advice over possible corporate manslaughter charges against those connected to the home.
Former Stormont health minister Edwin Poots also accused the RQIA of not conducting its work properly and said that it "would need to be looking at resignations if they cannot put their house in order".
Responding on Thursday, the RQIA said that it "did not agree with some of the commissioner's conclusions".
It added that while the report was "devastating", its inspectors had taken a "proportionate approach" and "appropriate action to support this home".
"Most seriously, we found no evidence of institutional abuse and do not believe that the commissioner's findings support this statement," it said.
However, Eddie Lynch, the Commissioner for Older People, said he was "deeply disappointed" at the statement and said the RQIA's tone was "unhelpful".
"I'm also really surprised and disappointed the RQIA haven't taken this opportunity to apologise to those victims of abuse at Dunmurry Manor," he told BBC Newsline.
"When I released the report yesterday, I wanted a strong response from the authorities. I wanted to see two things, action and accountability,
"At the minute, the regulator, the RQIA, isn't showing either of those."
He said the RQIA's actions "didn't stop abuse, didn't stop older people living in appalling conditions".
Corporate manslaughter charges
The RQIA also said it was "very concerned" at how the commissioner chose to present his findings of resident-on-resident sexual assault.
"Disinhibited sexualised behaviour is not uncommon in people with dementia," the watchdog said.
"For that reason, it is not regarded as criminal activity and is dealt with sensitively by Health and Social Care Trusts safeguarding teams who work closely with care providers to mitigate risks to all residents."
Mr Lynch said that the investigation found "multiple examples of vulnerable older people suffering at the hands of other residents and being sexually abused".
Earlier, Julieann McNally, whose grandmother Annie McCourt was a resident at the home between January and June 2016, said that her family intended to take further action.
"We will look at legal proceedings and we will look for corporate manslaughter charges and also we'll be contacting the coroner for an inquest," she said.
Mrs McNally told the BBC that she felt "vindicated" by the damning report.
She said, at first sight, Dunmurry Manor looked like a suitable place to meet her grandmother's needs.
"It was fresh, it was clean at the time, it was bright, she had her own bathroom and that is why we chose it," she said.
But the family said they started to notice a change in living conditions in the following months, with meals being missed and hygiene deteriorating.
"Granny didn't spend a lot of her time communally with residents - she liked to stay in her room and if we visited she would stay with us," said Mrs McNally.
'Vindicated but without happiness'
"She wasn't being washed or cleaned properly, the smell in her room was just awful.
"Many times we found her bed had been made even though it was full of urine because she had become incontinent."
When she was admitted to hospital, Mrs McCourt's family was told she had kidney failure, pneumonia and E. coli.
"The doctors asked us if there was an accident as she had an acute kidney injury," said Mrs McNally.
"We pushed for an investigation and an investigation by Dunmurry Manor and the [health and social care trust] found she had fallen out of bed."
The home opened in 2014 but repeated inspections found problems, while family members and former employees also raised concerns.
Mrs McNally said that the commissioner's report contained "everything we had said" and proved that "we should have been listened to".
When asked if the report would allow her family to move on, she said it would not and instead it had only added to their anger.
"It's strange because we are vindicated, but without the happiness.
"The night she died I promised her we'd get answers and accountability."
'Endure a distressing experience'
The Runwood Homes Group, which owns Dunmury Manor, has issued an apology.
Its chief executive Gordon Sanders said that he was "truly sorry we failed to deliver the high standards of care" that residents had "the right to expect".
"Because of those failures, they and their families have had to endure this distressing experience."
It had been reported that the managing director of Runwood Care Homes, Logan Logeswaran, had resigned as a result of the report but he has since told BBC News NI that he stood down for personal reasons, not because of the publication of the commissioners.
The Department of Health said it would study the report carefully and provide a comprehensive response.
In a joint statement, the South Eastern, Southern, Northern, and Belfast health and social care trusts said they would study the report to ensure that lessons are learnt.