Paper review: Care home report outrage, racism, gay bandwagon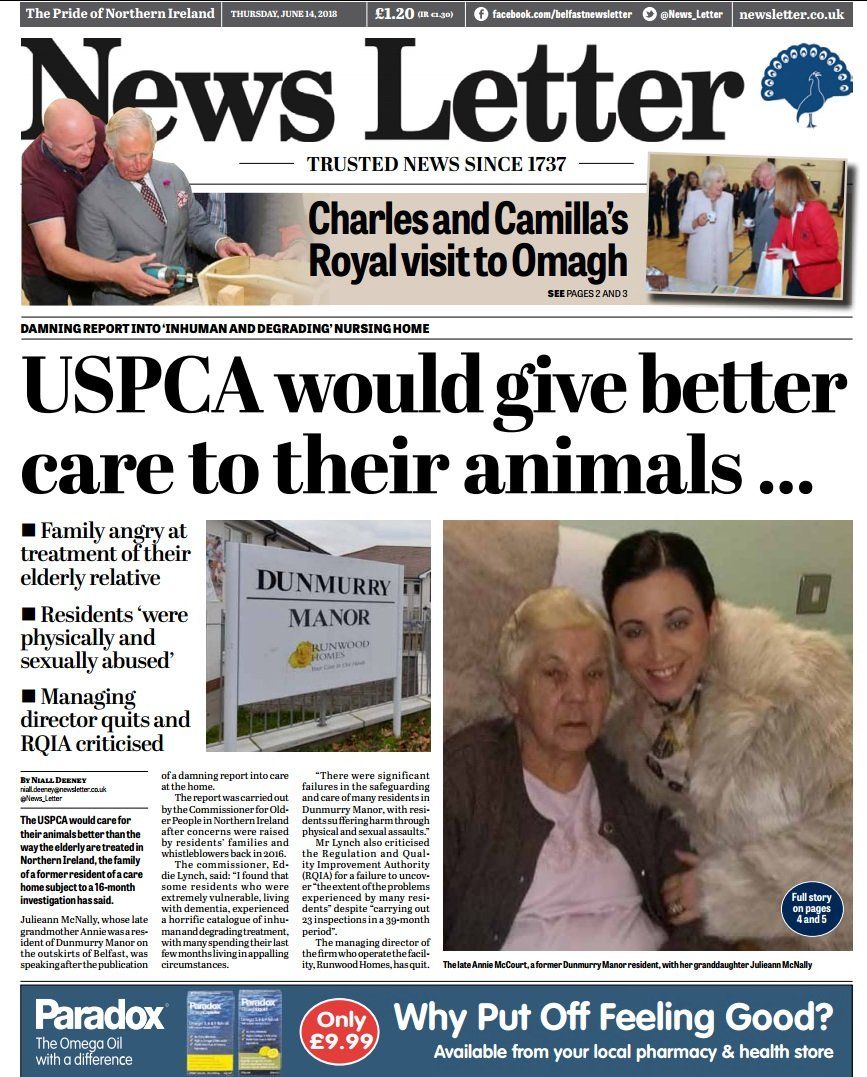 One story dominates the front pages this morning - the report into Dunmurry Manor care home.
An investigation into the Belfast care home found a "horrific catalogue of inhuman and degrading treatment".
"Animals are treated better" says The Irish News, with a full page picture of emotional family members at Wednesday's press conference.
She says the USPCA "would treat their animals better".
The papers report that abuse included an 88-year-old who was the victim of a suspected sexual assault by another resident, a resident who had pressure sores down to the bones and an 83-year old who lost 10 stone in five months.
The paper again quotes Ms McNally, who says families of some residents are looking into the possibility of taking a corporate manslaughter case against Runwood Homes.
The Irish News editorial says the "horrendous catalogue" of failings requires a comprehensive response from authorities.
The Runwood Homes Group, which owns Dunmurry Manor, has issued an apology.
"I am truly sorry we failed to deliver the high standards of care our residents at Dunmurry Manor had the right to expect and that, because of those failures, they and their families have had to endure this distressing experience," chief executive Gordon Sanders said.
Jim Allister hit out at the postal service after it introduced a colourful delivery lorry decorated in rainbow hues.
Many companies change branding to reflect the rainbow flag colours for pride celebrations each summer.
The truck will be based in Belfast.
However, Mr Allister says the company is "scrambling to join the fashionable fad of promoting the LGBT cause and agenda".
"I do not think it is the proper course for Royal Mail," he adds.
Royal Mail said it was "delighted to support LGBT colleagues and bring the rainbow truck to Northern Ireland".
It added that the truck is a symbol of its belief that every employee should be "free to be themselves".
Does Northern Ireland have a racism problem?
That's the question being asked after a survey revealed attitudes to eastern Europeans, Muslims, travellers and other ethnic minority groups.
The Irish News reports that more than half of the population of Northern Ireland would not accept a Muslim as a relative through marriage.
The figures come from a Northern Ireland Life and Times Survey.
The paper reports that the findings showed people have more tolerance towards "those from eastern Europe, with 84% saying they would accept them as a resident in their areas, compared with 71% for Muslims and 62% for travellers".
Amnesty International says the findings show Northern Ireland "has a huge problem with racism".
Patrick Corrigan says the levels of racial prejudice in Northern Ireland make it a "toxic place to live for too many people".
The Presbyterian Church in Ireland's (PCI) General Assembly was last week, but a controversial vote continues to make headlines.
Now a "livid" ex-Presbyterian cleric has thrown Queens University Belfast (QUB) into the mix, reports the Belfast Telegraph.
Former Presbyterian Minister Roy Simpson says he is "saddened and ashamed" by the stance and the church he was proud to serve is now "narrow minded".
Mr Simpson served as a minister in County Londonderry and County Donegal between 1973 and 1980.
He is calling on QUB to sever its ties with Union Theological College.
The PCI trains its ministers there and all undergraduate degree courses in theology at QUB are taught at the college.
QUB said it was "committed to creating and sustaining an environment that values and celebrates diversity".