Storm Hector: Calf freed from under a collapsed tree
By Barra Best
BBC News NI Weather Presenter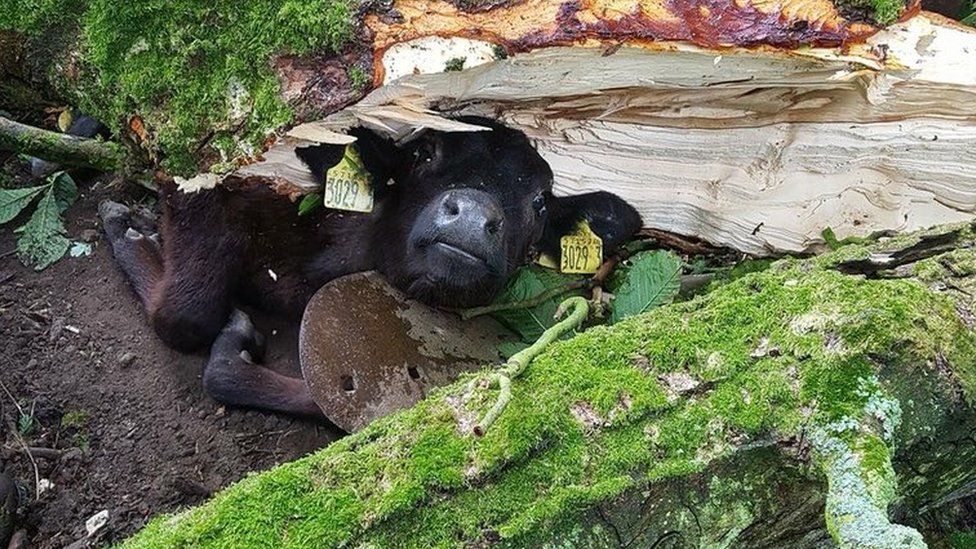 A young calf was feeling low but managed a mooving escape after a huge tree collapsed on top of it in County Tyrone.
The young calf's owners in Dromore noticed a number of trees had collapsed on their farm early Thursday morning.
Winds had been gusting at almost 100km/h (60mph) at the time.
"We got up around 05:30 BST and I happened to look out the window when I saw the damage," said Caroline McCarron.
"I said to my husband that there was bound to be calves trapped under the trees.
Her husband, Kevin, then shouted for Mrs McCarron to come out because a calf was trapped.
"At first, we thought it was dead, but it moved when we touched it," she said.
'We'll have to call it Lucky after that'
The couple then faced a big challenge in freeing the trapped animal.
"It took around 10 minutes to get it free. We pushed against the tree but we couldn't really move it," said Mrs McCarron.
"We then tried pushing the calf in one direction while pushing the tree in the other.
"Finally, it managed to free itself, stand up, and shake itself off."
After about 10 minutes of gathering itself together, the calf went to join the other calves, she said.
The calf hadn't been named at that point, but now it has an apt name.
"I've never seen anything like it. We'll have to call it Lucky after that," said Mrs McCarron.