MPs take inquiry to Portavogie harbour
By Conor Macauley
BBC NI Agriculture & Environment Correspondent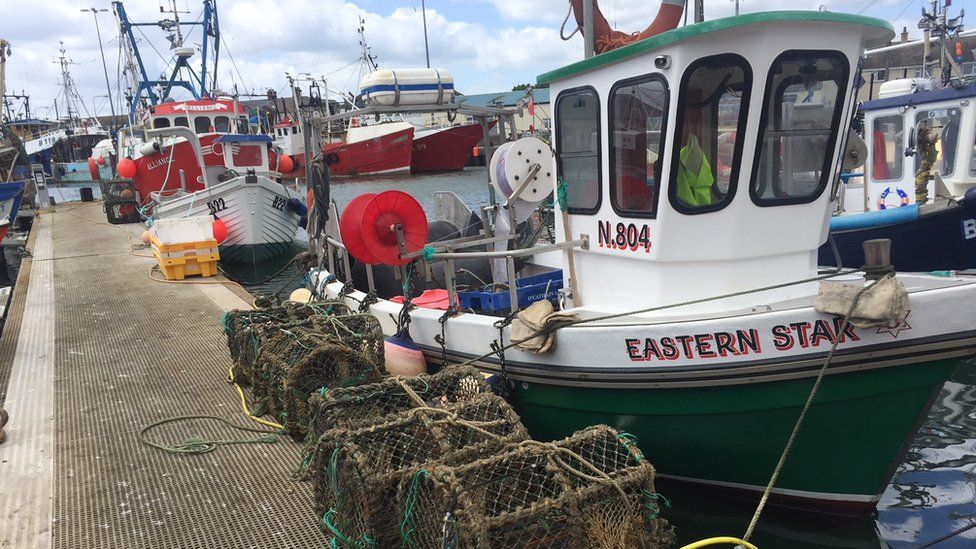 Westminster MPs have been on a fact-finding tour of a County Down fishing port.
Members of the Northern Ireland Affairs Committee visited Portavogie.
The committee is running an inquiry into fishing after Brexit here.
They met fishermen and processors to discuss the opportunities and challenges thrown up by the leave decision. Later, they took evidence from boat owners and industry figures.
More than 1,700 people in Northern Ireland are employed in fishing and processing work.
There are 314 licensed boats in the Northern Ireland fleet. In 2016, they landed 21,000 tonnes of fish in Northern Ireland worth £31m. Processing adds a further £70-80m to the economy.
Committee chairman Dr Andrew Murrison said the people he had met seemed "fairly positive but there are some challenges".
He said their report hoped to address those and feed into an upcoming UK fisheries bill.
Fishermen said they want a fairer share of the available fish in the Irish Sea.
Harry Wick, who represents around 150 trawlers, said 70% of the Irish Sea falls in UK waters but UK fishermen were only allowed to catch 30% of the cod there.
He said it was "not unreasonable" to expect UK fishermen could catch 70% of the fish.
Mr Wick acknowledged that there will be negotiation over future access for EU 27 fleets to UK waters and said there will EU waters that Northern Ireland fishermen will want to be able to use.
That includes waters off the Irish Republic.
The UK fishing industry will continue to be subject to the rules of the Common Fisheries Policy until December 2020 if a transition is agreed.
The other big issue raised with politicians was the difficulty securing crew.
Trawlers here rely on non-EU nationals including from Ghana, the Philippines and Sri Lanka.
But that means they must fish outside of UK territorial waters beyond the 12-mile limit.
Fishermen have said the rigid interpretation of the rules means that even in winter, when it's safer for them to fish closer to shore, they have to venture farther out to comply with the rules.