Antrim man is oldest competitor in European Transplant Games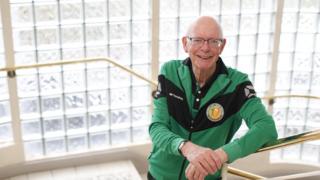 A retired University of Ulster lecturer could be the oldest competitor at this years European Transplant and Dialysis Games.
Eighty-year-old John McAleer from Newtonabbey will be competing in Golf and Pétanque at the games in Italy.
He is one of 24 athletes representing Ireland. The team flies out to Italy on Saturday.
John competed in last year's Transplant games in Malaga, Spain where he won a bronze medal in golf.
John received a kidney transplant in 2013, when he was aged 75.
'Great motivator'
Speaking to BBC News NI John spoke about his condition.
He said: "My kidney problems started quite late in life. I was told I could hope for a kidney transplant if I kept fit and well.
"I was then introduced to the idea of a transplant team, I'd never heard of it before."
He explained how being part of the team had kept him in good health since his transplant.
"It's a great motivator to keep fit and get out and walk, and to do exercises that keep you mobile."
The 10th European Transplant and Dialysis Games will take place in Sardinia, Italy next week.