Parent apologises to teacher for Facebook abuse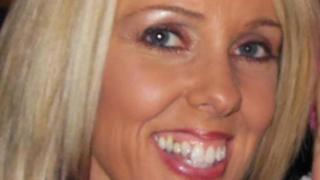 A teacher who was the subject of derogatory online comments from a pupil's parent is relieved a libel case has restored her "good name".
Caroline Coulter apologised for posting the offensive remarks against Roisin Corr, head of music at St Joseph's Grammar School in Donaghmore, on the school's Facebook page in May 2017.
It came at the end of a libel case brought by the County Tyrone teacher.
It is understood no money was sought as part of a settlement.
"I made unfair and derogatory comments on Facebook about Roisin Corr," said the apology, which was read out in court by Mrs Coulter's barrister.
"I take this opportunity to formally withdraw my comments and apologise to Mrs Corr for making those comments.
"In particular, I apologise for any hurt and upset I may have caused and shall desist from any such conduct in the future."
'Untrue comments'
The case, first reported in the Dungannon Herald, ended last Thursday at Omagh County Court.
Mrs Corr said she was relieved the matter had finally come to an end.
"This has been a very difficult year for myself and my family following unfair and untrue comments posted about me by a parent on social media in both their own Facebook page and the school's Facebook page," she told the Dungannon Herald.
"I am relieved that this matter has finally been resolved and that my good name and character have been restored and that the parent in question has apologised for and retracted their comments."
Teaching unions say abuse of teachers on social media is a worsening problem.
"We would get calls on a weekly basis from teachers experiencing abuse on social media," NASUWT 's Justin McCamphill told BBC News NI.
"In the early days it was just the pupils but now it's the parents also.
"It can range from comments about an individual teacher or a full on campaign against a school and everyone in it, from teachers to classroom assistants.
"Some comments are abusive, some defamatory, and some comments our members receive can be homophobic or sectarian."