Sinn Féin says government 'playing for time' over Brexit
By Stephen Walker
BBC News NI Political Correspondent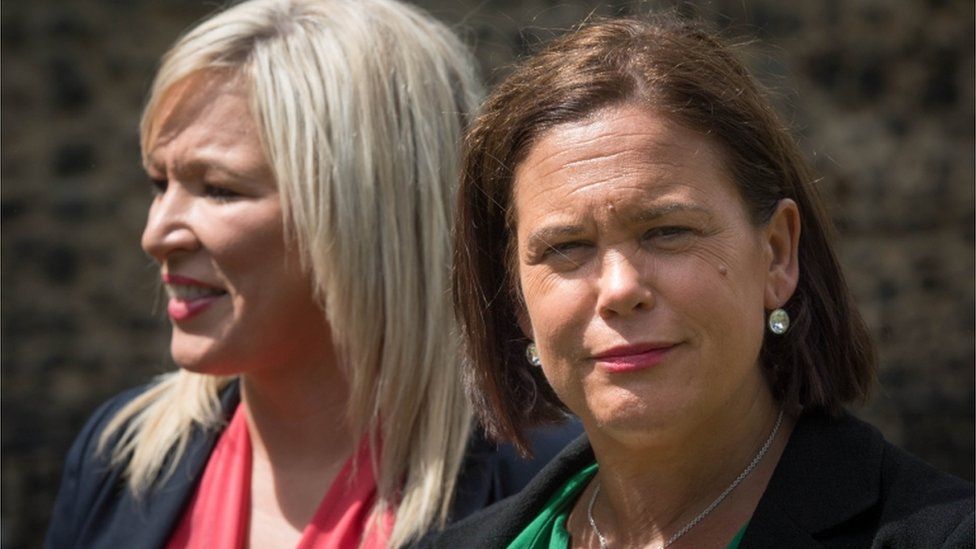 The Sinn Féin president has accused the government of "playing for time" and "running the clock down" when it comes to Brexit.
Mary Lou McDonald said she heard nothing new in discussions with the prime minister and NI Secretary.
It was the first time Sinn Féin had met the government since February of this year.
Ms McDonald also said the Irish government needs to have a greater role in the Brexit discussions.
She said the UK government were "playing a very dangerous game".
Ms McDonald also claimed the UK does not have a "positive proposal" when it comes to the Irish border.
Sinn Féin vice-president, Michelle O'Neill, who also attended the meeting at Westminster, confirmed afterwards that she had also raised legacy issues with the prime minister.
She said she challenged recent remarks made by Theresa May who claimed security forces veterans were unfairly treated when it came to legacy investigations.
Earlier, Nigel Dodds the DUP deputy leader accused Sinn Féin of being "glorified lobbyists".
"By boycotting the House of Commons, the Northern Ireland Assembly and the Northern Ireland Executive, Sinn Féin is now a glorified lobbyist," he said.
"They sit on the outside as spectators dependent on others to get decisions made."
Sticking points in the discussions have included the issue of Irish language and same-sex marriage.
Speaking on BBC Radio Ulster ahead of the meeting with the prime minister, Ms O'Neill called for the British-Irish Intergovernmental Conference to convene immediately, a call dismissed by the DUP.
"The two governments are co-guarantors of the agreement. The message for Theresa May today is very clear - the two governments need to deliver on these rights-based issues," Ms O'Neill said.
Asked about her level of contact with DUP leader Arlene Foster, Ms O'Neill said that there had been "limited access since the DUP walked away from the talks in February" but added that she has "spoken to all party leaders and we will continue to do so".
Mr Dodds dismissed the importance of the intergovernmental conference.
"Sinn Féin are focused on a body which cannot discuss devolved matters....it is a talking shop," said the North Belfast MP.
On Monday, the House of Lords again defeated the government over giving MPs a "meaningful vote" on the outcome of negotiations between the UK and the EU.