Councillor Brian Duffin guilty of teen sex assault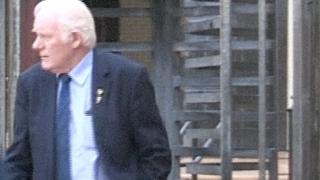 An Antrim and Newtownabbey councillor has been convicted of sexually assaulting a teenage girl.
Antrim Magistrates' Court heard that Brian Duffin, 73, of Cargin Road in Toombridge, grabbed the then 17-year-old's right breast and forced his tongue into her mouth, in June 2016.
Duffin resigned from the SDLP, pending the outcome of the case.
He will be sentenced at a later date.
During a police interview from August 2016, which was played to the court, the victim said Duffin, now an independent councillor, put his arm around her when she became upset while they were sitting alone together on a sofa.
The complainant, who is now 19, said she became uncomfortable when Duffin began to console her by rubbing his arm up and down her shoulder while giving her a hug.
The woman, who cannot be named for legal reasons, told a police officer that Duffin grabbed her head and placed his tongue in her mouth after asking her for a kiss.
"He stuck his tongue down my throat and I couldn't get out of it, I didn't know what to do," she said.
"I just froze, I panicked."
'A case of credibility'
She added that Duffin also grabbed her right breast while moving his hand from her left knee up her leg.
During cross-examination by a defence lawyer, the victim was asked whether what happened was simply a misunderstanding between the pair.
The woman denied that was the case.
Under questioning from a defence lawyer, Duffin admitted to kissing the woman on the lips but denied sexually assaulting her.
"As a father of four daughters that would be totally out the window for me," he said.
He added that he was sorry that she had broken down while giving her evidence to the court.
District Judge Nigel Broderick said that the case boiled down to "one account against another" and was "essentially a case of credibility".
He said that the woman was "quick to challenge" the claim from the defence that the "physical contact may have been a brushing".
The judge added that he felt the complainant had given her "evidence in a straightforward matter of fact way" and that in his view her complaint is "credible and reliable."
Duffin was released on bail to 7 August, and Judge Broderick said he would pass sentence once a pre-sentence probation report was ready.