Michael and Marjorie Cawdery: A 'frenzied attack' on pensioners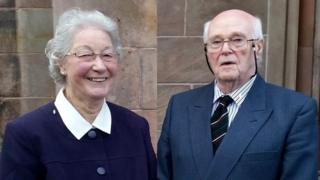 A 41-year-old paranoid schizophrenic used a number of knives in a frenzied attack on two pensioners, a court has heard.
Thomas Scott McEntee, whose current address is the Shannon Unit at Knockbracken Healthcare Clinic, pleaded guilty to the manslaughter of Michael and Marjorie Cawdery, both 83, in May.
Their bodies were discovered by their daughter and son-in-law at their house in Portadown's Upper Ramone Park.
He will be sentenced next Thursday.
At the hearing details of events leading up to the double killing were put before the court.
It was said that the day before the incident McEntee was causing a public nuisance in Warrenpoint Square.
Police took him to Newry train station where he said he planned to travel to Lurgan.
However, rather than boarding a train, McEntee broke in to a garage in Derrybeg Lane in Newry.
He then slept in a vehicle he had broken into.
'Naked man'
The next morning he arrived at his sister's home in the neighbouring village of Bessbrook at 06:30 GMT.
He was cut and his clothes were ripped. He left at 08:45.
Three hours later police began receiving calls in relation to a naked man walking along the Millvale Road.
That man was McEntee. He was later seen some two miles away, still naked in the grounds of Daisy Hill Hospital.
He was then taken by ambulance, with a police escort, to Craigavon Area Hospital.
Whilst being assessed in the Emergency Department his demeanour changed and he got up and left.
'Multiple knives, multiple locations'
At mid-day he stole a bottle of wine from an off-licence.
Fifteen minutes later he was seen in Upper Ramone Park - the cul-de-sac where the Cawderys lived.
The court heard that the 83-year-old couple had endured a frenzied attack and had been stabbed by multiple knives, in multiple locations.
McEntee left the scene in the couple's Renault Kangoo vehicle and was found some two hours later, standing in a field, confused and surrounded by cattle.
At the time he was wearing Mr Cawdery's clothes.
At today's hearing, McEntee's defence praised the dignity of the Cawdery family throughout the distressful situation they had been forced into.
Defence also highlighted the mental difficulties faced by McEntee.
"He had a disruptive childhood punctuated with periods in care homes," his defence barrister said.
"There are incidents, the details of which I will leave in the pre-sentence report.
He has had a number of unsuccessful suicide attempts and has been receiving treatment for mental health problems since 2010."
Mr Justice Colton said that given the information put before the court, he would need time to reflect before passing sentence.
'Positive sense of fun'
Mr and Mrs Cawdery met while working in Africa and married in Uganda in 1962 before moving to Northern Ireland.
At the couple's funeral, Mrs Cawdery's nephew said she loved life "and made everyone around her happy, with her positive sense of fun - and the fact that she was always more interested in other people rather than herself".
Mr Cawdery's brother said he "possessed a bright and inquisitive mind".
He said he used it to benefit others through the medical and veterinary communities in Britain and Ireland.
Local minister Rev Gary Galway said: "They were devoted to each other, a lovely couple."