Newspaper headlines: Foster's final still the big talking point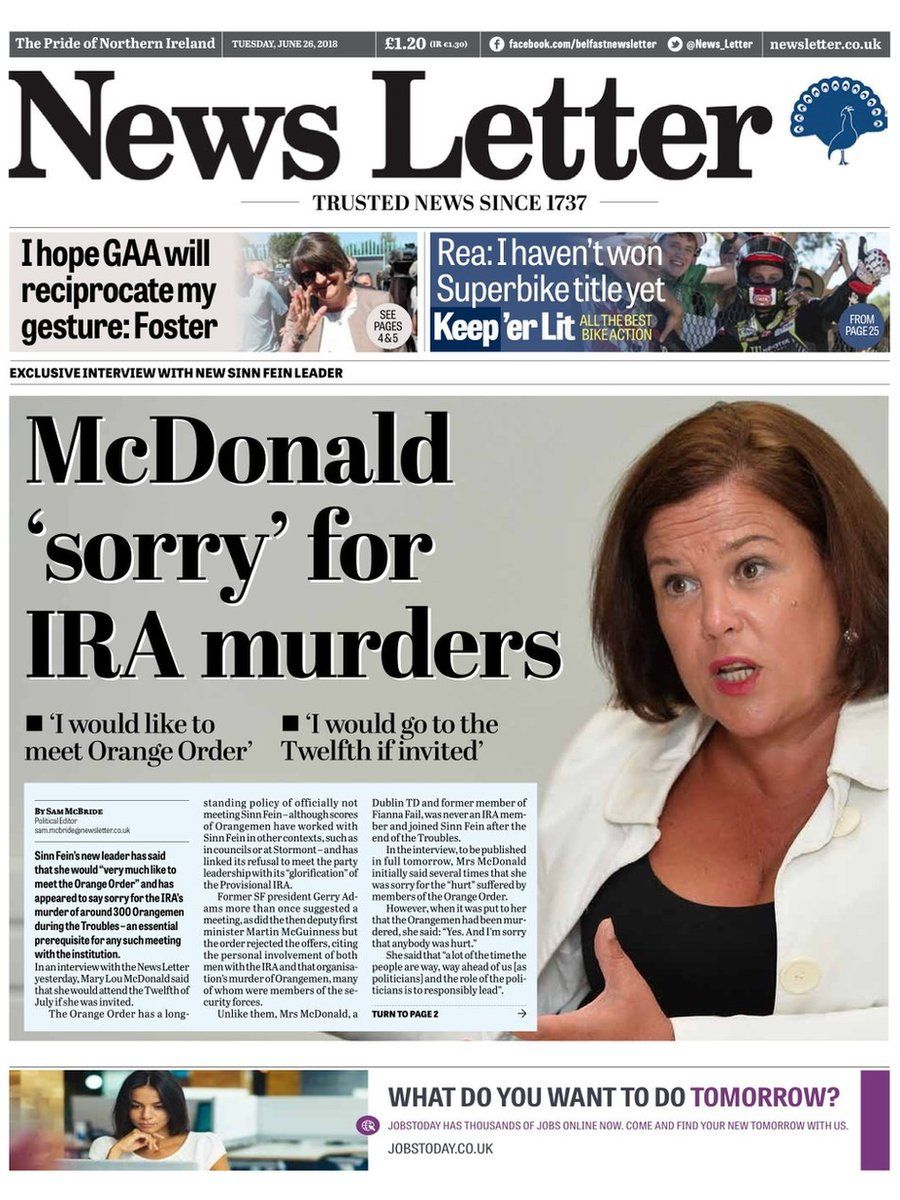 The papers are in a serious mood, full of politics and court stories with little to lift the spirits.
Ms McDonald said she would like to meet the organisation, the paper reports.
The Sinn Féin leader also "appeared to say sorry for the IRA's murder of around 300 Orangemen during the Troubles - an essential prerequisite for any such meeting", according to the paper.
However, the paper's editorial says Mrs McDonald's "new tone... will be met with scepticism".
It centres on the Parades Commission allowing a march through Kilcoole Park and Kilcoole Gardens, off the Ballysillan Road in north Belfast. The application came from a "re-established lodge".
The march is understood to be the first of its kind in the area and some residents are concerned the parade is being organised in order to cause division.
The News Letter gives two pages of coverage to the story and reaction to it, including "sorrow" that the match was held on a Sunday.
There are also comments from DUP MLA Jim Wells saying the visit had created "a lot of concern" among grassroots members.
He says he will never attend a Gaelic Athletic Association (GAA) event in his constituency, nor will he attend sporting events on a Sunday.
The paper's letters page is focused entirely on readers' various views on Mrs Foster's visit to Clones.
One reader denounces Mrs Foster as a "traitor" and says the "terrible decision" has brought the prospect of a united Ireland closer.
The Belfast Telegraph has a two-page spread on events in politics, or the lack of them, including coverage of Fermanagh's now most famous fan.
In a similar vein, a Conservative Northern Ireland peer has hailed the former first minister's decision to attend an LGBT event as "extraordinary".
Outlining the unionist disconnect with the GAA in general, Ms Walker concludes: "Ulster - six counties, or nine - thanks to the leader of the DUP, is a slightly nicer place this morning."
Mary Lou McDonald crops up again in the Daily Mirror. This time it is in relation to the GAA match, and the Sinn Féin leader said the visit could help create the conditions for a deal to restore power-sharing at Stormont.
"Is it game on after Arlene's GAA visit?" the paper asks.
A 63-year-old man from the town was given an 18-month suspended prison sentence after being convicted of begging, an offence for which he already had "multiple convictions".