RHI scheme not 'fully understood' by NI officials
By Conor Macauley
BBC NI Agriculture & Environment Correspondent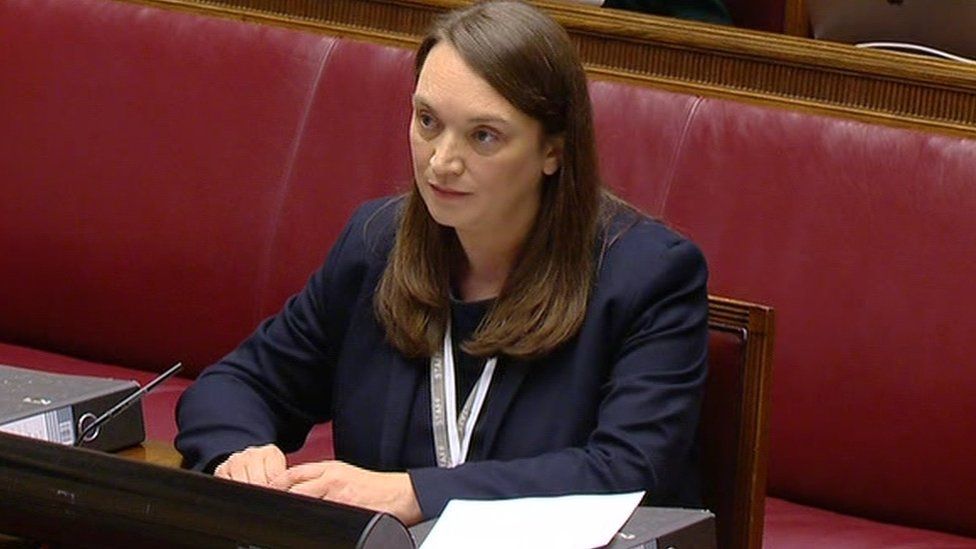 Finance officials should have taken more care to establish how the budget of a flawed green energy scheme worked, a public inquiry has been told.
They were too "hands-off", accepting assurances from others when they should have done more to interrogate finances.
They failed to "join up the dots" because there was no handover process for staff taking up responsibility.
Emer Morelli, a senior official in the Department of Finance, admitted assurances were taken "at face value".
Ms Morelli, who gave evidence to the Renewable Heat Incentive (RHI) inquiry on Tuesday, was involved in approvals for the scheme.
The RHI scheme was set up by the Northern Ireland Executive in 2012, as a way of encouraging businesses to switch from using fossil fuels to renewable sources for generating their heat.
Those who signed up were offered financial incentives to buy new heating systems and the fuel to run them.
The scheme's budget ran out of control because of critical flaws in the way it was set up: Claimants could effectively earn more money the more fuel they burned because the subsidies on offer for renewable fuels were far greater than the cost of the fuels themselves.
Ms Morelli accepted that the implications of the RHI tariff structure, including guaranteed 20-year payments, "may not have been fully understood".
She told the inquiry: "Did we have a map at the outset that said this is what it should look like? No.
"Did we look for a map? No."
It also emerged that Treasury officials did not make it clear to officials in Northern Ireland that RHI funding could hit departmental budgets, even though they told civil servants running an equivalent scheme in Britain.
RHI Inquiry chairman Sir Patrick Coghlin said the Treasury had made it clear to the equivalent department in Great Britain that RHI funding would be a "risk-sharing" scheme.
By contrast, that had not been communicated to civil servants in Northern Ireland, he said.
Instead there had been "half-understood emails" exchanged directly between Department of Enterprise officials and people in the Treasury.
"That... is a very regrettable situation," said Sir Patrick.
Ms Morelli said Department of Finance staff had accepted what they were told by Department of Enterprise officials "at face value", adding that they should have done more to establish the true budgetary position.
They had also taken comfort from EU state aid approval for the scheme and from correspondence between departments involved in drawing up the policy.
"We should have been taking assurance from Treasury and I think in the early stages and right into the summer (of 2015) that is an omission on behalf of the department," she said.
It was October 2015, shortly before cost controls were introduced, that there was contact between the Finance Department and Treasury about RHI.
Inquiry panel member, Dame Una O'Brien, said what appeared to be lacking was "old-fashioned public administration; record-keeping and linking things - the sort of fundamental basis of what normal public administration should be".
Ms Morelli agreed. She also said because of informal phone contact between staff on key decisions such as the budget, officials were left to carry out their own "detective work" to try and establish what was going on.
She had officials had not appreciated how "complex and difficult" RHI had been from the "get-go".
She also conceded that officials should have challenged what they were told about it much more robustly.
Later it was put to Ms Morelli that if finance officials had done their job in Autumn 2014 some of the problems in the scheme could have been prevented.
Counsel to the inquiry Joseph Aiken said had they checked when they were approving the start of the domestic RHI scheme, they would have seen it was drawing on the same budget pot as the non-domestic one.
They might have seen that the non-domestic scheme only had spending approved until the end of March 2015 and had not yet begun a review which had been a condition of that approval.
Ms Morelli agreed, but said it did not take away the obligation on the Enterprise Department, which was running the scheme, to do the review and ensure it had the necessary approvals.