Belgian beer, Brexit and the Irish fallout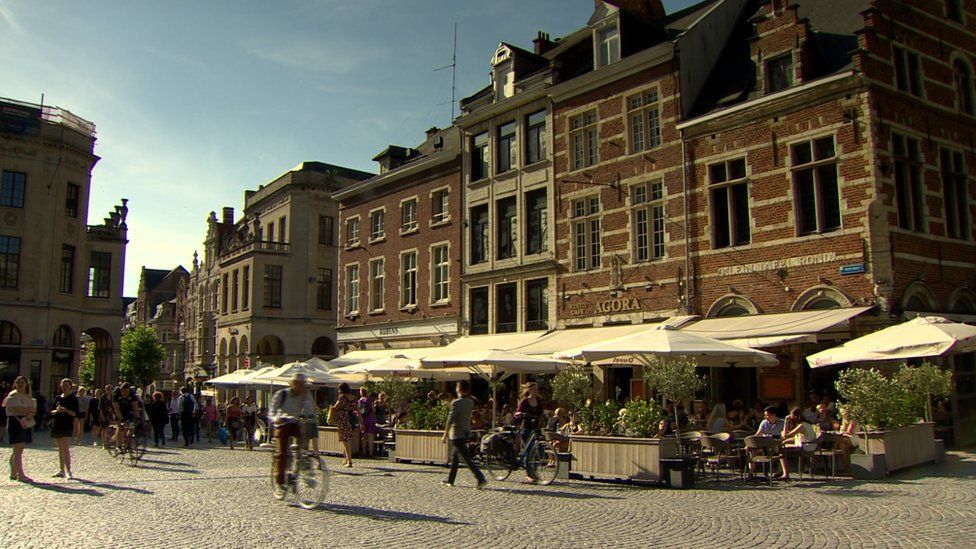 About 20 miles east of Brussels, Leuven is home to Belgium's biggest and oldest university. But it's also a place with a remarkable history of Irish connections.
Exiled Irish monks studied at Leuven's Catholic University back in the 1500s.
Irish soldiers fought to defend the city when it was besieged by French and Dutch troops in the 1600s.
After the Flight of the Earls from Rathmullan in County Donegal, the Earl of Tyrone Hugh O'Neill sought refuge in Leuven on his way to Italy.
Another notable Irish visitor was the young Daniel O'Connell, who passed through Leuven in the years before he became an MP leading the struggle for Catholic emancipation.
So it was no coincidence when, two months ago, Taoiseach (Irish prime minister) Leo Varadkar chose the university, now known as KU Leuven, as a suitable location for a lecture on the future of Europe.
He told the students, who came to the university from all over the world, that Ireland didn't need to be convinced of the advantages of EU membership for a small country, but added that there could be no better example than "the unequivocal support we have received from our EU partners in the negotiations on Brexit".
"Alone Ireland is small. Together with our partners we are strong," he said.
Alex Andrione-Moylan, an Italian-English politics research student, and his Belgian colleague Isabelle De Coninck were in the audience to hear the taoiseach speak.
So do they think a point will come when that "unequivocal support" given to Dublin by its fellow EU member states might come under strain?
Alex said that "unity among the EU member states has been strengthened as a by-product of Brexit, especially regarding the Irish question".
"Undoubtedly, I think that will be something that will continue," he said.
Isabelle cautioned that "there has to be this understanding that the UK cannot have its cake and eat it" when it comes to Brexit.
But, she added, there should be "solidarity with the Irish… I think it's really a case of waiting to see how that plays out in practice".
"I am convinced the governments and the EU will stand with Ireland on this issue," she said.
Back in 2016, undergraduates in a bar at KU Leuven watched the overnight results of the Brexit referendum coming in with a sense of disbelief.
Robbe Van Hoof described the UK's decision as "a huge surprise".
"I think no one in western Europe expected this result. I certainly didn't," he said.
In the days immediately after the referendum, Brexit was a big talking point.
But while Leuven's political science students may still be trying to keep across the details, it's no longer the stuff of everyday conversation.
Victor De Groof tells me these days he and his fellow undergraduates are more likely to discuss the Italian government's attitude towards migration or the fate of German Chancellor Angela Merkel than what will happen to the UK's relationship with Europe.
In one of Leuven's parks, a group of keep fit enthusiasts alternate between short jogs and press ups.
But most of the students seem far more laid back, basking in the summer sun.
It's hard to imagine a more peaceful place, but during the the world wars this part of Flanders was a blood-soaked battleground.
German soldiers destroyed many of Leuven's finest buildings, which have been painstakingly reconstructed.
Politics professor Steven Van Hecke, who invited Leo Varadkar to Leuven back in April, said the city's history of conflict should remind people that the European Union itself was created as a way to try to guarantee peace.
This heritage makes him determined that Brexit must not be allowed to pose a threat to the stability of Ireland.
Professor Van Hecke said "the British government seems to underestimate the impact Brexit might have on the return of violence or something similar within Ireland".
"Nobody wants go back to the period of the Troubles, peace should be taken into account and should be a sine qua non condition," he said.
"Peace should not be the victim of Brexit. So that's clearly a red line with the EU and it's also 100% supported by the Belgian government."
Leuven has been home to many celebrated intellectuals. But none more so than the Dutch philosopher Erasmus.
His name lives on as the shorthand for the EU's Student Exchange scheme, which has enabled millions of young Europeans to get a taste of education in other member states.
Leuven's students tell me they value being able to study alongside their British and Irish counterparts, not least because they can practise their English conversation skills.
In recent decades, Leuven's Irish Institute has brought young people from across Ireland to the city for a range of work placements and educational programmes.
The institute is based in a college founded by Irish monks back in 1607.
David Grant, its chief executive, is concerned that Brexit could have a negative impact on the institute.
For instance, Brexit could make working visas for Northern Ireland students holding British passports more difficult to obtain or create obstacles for funding from either the Erasmus programme or the EURES job mobility scheme.
'Brexit not my preference'
But Mr Grant insisted his institute will continue its mission whatever obstacles it might face.
The UK has pledged to continue to participate in the Erasmus scheme at least until 2020.
But, as with all aspects of Brexit, academics want more certainty about what will happen after that.
The man in charge at KU Leuven - Rector Luc Sels - said it values its research links with British and Irish universities and that he wants the least disruption to those contracts.
"A hard Brexit would not only be very harmful for the British universities, but also to KU Leuven," he argued.
"So, the softer the better - and no Brexit would be my preferential scenario."
Apart from its reputation for intellectual thinking, Leuven has a long tradition when it comes to drinking. It's the home of Stella Artois and a host of lesser-known local brews.
A soft Brexit may be what the students and academics of Leuven crave.
But, as they seek shade during the recent heatwave under the parasols of the many bars that cluster in the city's Old Market, they seem very happy to settle for an ice cold Belgian beer.
You can watch the full report on The View on BBC One Northern Ireland at 22:40