Falcons take flight at special parkrun event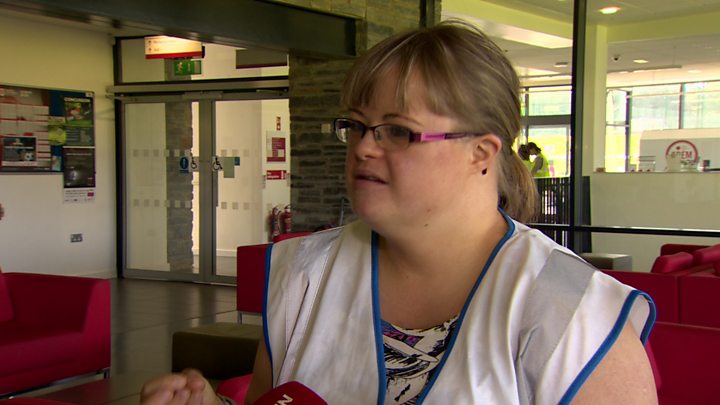 On Saturday morning, in south Belfast, more than 200 runners took part in a very special parkrun.
This edition of the weekly event was different as it was managed entirely by The Falcons - a group of young adults with learning difficulties.
They swept in for one day only, not as participants, but instead as leaders.
It was a hot 22C at 09:00 BST on Saturday morning at the Malone Playing Fields when the race took place.
The Falcons, ten in number, were formed in 2016 to encourage them to run and embrace the outdoors.
While the group's members have been part of the Queen's parkrun community for two years, Saturday was the first time they were in charge.
With more than 200 runners attending, it was no mean feat.
But Barbara Norris, the run director, took it all in her stride.
"I love parkrun and as today's run director it is my job to tell everyone what their roles are.
"That includes the marshals, the people in the kitchen and I tell all the runners about the course and that they have to keep their dogs on a lead."
The beauty of parkrun is that it is managed entirely by volunteers - no matter what the location, country or continent.
It is also free and takes places against some of the most scenic backdrops.
So, with the sun beaming down on Queen's Pavilion on Saturday morning, the Falcons took charge of directing the run, timekeeping, marshalling, cheerleading and preparing refreshments.
Conor Boyle took the lead in the kitchen, where he was busy preparing bottles of iced water, tea, coffee and even cake.
And they're off
"There's a special cake for us Falcons as today marks our anniversary," he said.
"It's always fun. I'm here every Saturday with my friends, I really enjoy coming and running keeps us all fit."
When the time came, Barbara blew the whistle and the runners were off
The 5k event began on a gravel trail, starting at Dub Lane, and took in the sports pitches at Upper Malone.
As well as dogs on leads and people pushing prams, there are hills to climb and tight corners to navigate.
Peppered along the route, members of the Falcons cheered the runners on.
'Out of their shells'
The group came together two years ago when local community leader Liam McGarry approached the young people and coaxed them outside to try running.
As well as taking part and volunteering in parkrun, they have participated in the fun run at Belfast City Marathon.
Cillian Short, who is among those who act as mentors to the group, said he's watched them mature and gain new skills.
"Today is all about putting them in charge," he said. "Letting them see they can take on responsible roles.
"I have seen the Falcons change dramatically from being shy and retiring to really coming out of their shells.
"They are talking more among each other and with others. They are participating in everything here, they love life and live it to the full. They really bring the fun element to parkrun."
Feel good running
Queen's parkrun is one of 525 across the UK, as well as 76 in Ireland.
The event is held in 19 countries across five continents, all organised by volunteers.
In the UK and Ireland, 4.5 million runners are registered. That means a lot of legs moving on a Saturday morning, all for the good of the body and soul.
For the Falcons, happiness and running go hand-in-hand.
"You do feel happier because there is a special hormone called an endorphin that makes you feel good about yourself. I love those endorphins," said Barbara.
After almost 16 minutes, the Falcons are prepared to greet the first runner home.
With orange cones strategically laid out, the timekeepers took their places to greet each runner as they came through and to scan their chips.
Jordan Kerr, who won three golds and a silver at the Special Olympics, acted up as timekeeper and said it was an important job.
"Time keeping is very important. I have to use a stopwatch. We also check everyone coming in and make sure they get a time chip that records their time. I will have to concentrate," he said.
While every event is special, this one will go down in Queen's parkrun history.
It was the day the Falcons took over in a heatwave and made running look like a piece of cake.