Social care system 'seizing up' under strain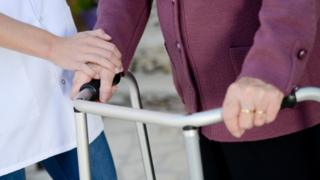 Northern Ireland's social care system could seize up unless it receives more funding, the chief social worker has warned.
Sean Holland said the public must start thinking about how they can contribute to the cost of their care in the future.
He was speaking on the 70th anniversary of the NHS.
Northern Ireland, like the rest of the UK, has an ageing and growing population.
It is estimated one in four people in Northern Ireland will be 64 or older in 20 years' time.
More older people will require care, whether at home or elsewhere.
But the system is already under tremendous pressure.
Now, there has been a call for a public debate on how it should be funded.
Mr Holland said the system was slowly falling apart.
"It's what I would describe as an engine that's running very hot," he told BBC News NI.
"It's running very fast, and is still functioning, but if it gets any hotter, eventually, it gets overwhelmed and seizes up."
Some 23,000 people in Northern Ireland receive domiciliary care, amounting to 250,000 hours of carers' work a week, nearly 70% of which is provided by the private sector.
Northern Ireland has the UK's highest rate of 15-minute visits, according to a report by independent health care providers.
Unlike in England and Wales, recipients in Scotland and Northern Ireland are not charged for a basic domiciliary care package.
It is estimated that 15% more care packages will be needed by 2020 to meet demand across Northern Ireland.
The region's 41,000-strong social care workforce includes 6,200 social workers, 500 social work students and 34,000 social care registrants of whom 12,800 are domiciliary care workers.
Mr Holland called for a review into how Northern Ireland pays for social care, and also how it will encourage a sustainable workforce, in which enough full-time staff (not those on short-term contracts) are employed to deliver the care required.
"We are going to need more money into the system," he said.
"That is probably going to have to be a combination of more public money, but also people are going to have to look at what they can personally contribute to the cost of their care."
'It is expensive'
Brian McHugh is one counting the financial cost of care.
He has been looking after his 67-year-old wife, who has dementia, in their home for the past two years.
But her condition has deteriorated and he now has to find residential care, after already quitting his job in order to look after her.
"It's not difficult finding out information but it is expensive.
"For residential care, you're talking around £650 per week. Some places charge a top-up, which can cost an additional £40 to £50 a week.
"That's expensive. If you have savings of over £23,500, you will be expected to pay it all.
"But that won't last very long and then, I understand, they will take my house."
Care packages: What are the options?
There are a range of social care services available to people who require support - but some do require a charge.
When an application is made for a social care package, a financial assessment is carried out by the local health trust.
Option one: Domiciliary care
Domiciliary care is the option the government is encouraging, as it allows people to stay at home rather than in hospital and is cheaper.
But in order to keep up with demand in the next five years, it will require a larger workforce.
People may be offered a direct payment from their health trust to allow them to buy in an additional service of their choice.
Health trusts charge extra for meals on wheels.
Option two: Supported housing
This option includes fold accommodation, which allows someone to live independently but also provides on-site support and assistance when required.
If required, a basic care package will be supplied by the health trust for free.
Applicants will be expected to pay for rent for their accommodation, though may be eligible for housing benefit.
Option three: Residential care
This option provides care 24 hours a day and is means tested.
If someone has assets of more than £23,250 they will be expected to pay the full cost.
Less than £14,250 and the person will not be expected to contribute.
Those who fall in between may be asked to pay depending on savings and investments. Again, this is means tested.
Option four: Nursing home
A nursing home will cater for those who have a disability or illness that requires round-the-clock nursing care.
The service is means tested, but the local trust will make a weekly payment of £100 directly towards covering the nursing cost.
All care homes can charge an additional rate - a third party top-up - which reflects the private sector home's individual charges.
Sean Holland said that difficult choices lie ahead in order to ensure that the NHS is around for another 70 years.
"Currently we have a situation in Northern Ireland where we do charge people for social care, but we don't charge people in the same way as in other parts of the UK.
"Also people are asked to pay for residential and nursing care but they aren't expected to pay for care in their own home. Is that fair?
"Serious choices will have to be made. Some of those are political choices - for instance, do we increase taxes? Do we ask the public to pay more via another way?"
'Not working for people'
Meanwhile, Brian McHugh and his family are facing difficult choices right now.
They are looking for residential care but, according to him, it is not easy.
"I would like to have a nice safe place for her. A care home that she will be well looked after. Close to us so we can visit her when we want," he said.
"I don't really think it is working for people. Everything is about cost and it's hard trying to get things done on time."