Baker McKenzie law firm creates 150 jobs in Belfast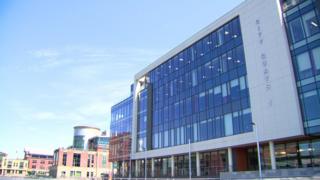 US law firm Baker McKenzie is to expand its Belfast office, creating 150 new posts.
The company, which came to Northern Ireland in 2014 and currently employs 300, said the expansion "underscores our commitment" to the city.
As one of 77 global offices, staff are involved in back office legal work and support roles like IT and marketing.
The firm had previously said Brexit would not impact its Northern Ireland operations.
As part of the expansion, it will take new floor space in City Quays 2, alongside its existing home in Belfast Harbour at City Quays 1.
James Richards, executive director of Baker McKenzie in Belfast, said: "Our lawyers and professional staff around the globe have been really impressed at what we have created in Belfast.
"The growth of our office has been a remarkable success story."
When it first came to Northern Ireland four years ago, the firm said its jobs would pay average salaries of £31,000.
It is one of several international professional services companies attracted - at least in part - by Northern Ireland's cost-effectiveness in terms of salaries and office costs.
Most of the work done in Belfast involves the US and other parts of the UK.