Sinn Féin accuses government of 'power grab' over NI Brexit plan
By John Campbell
BBC News NI Economics & Business Editor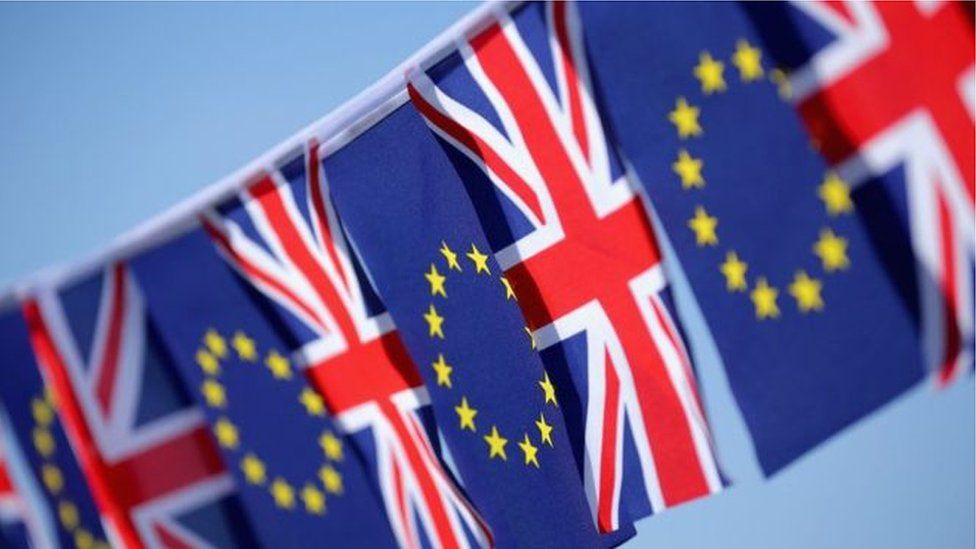 The row centres on how powers currently exercised in Brussels will be returned to the UK.
The government said some powers must go into UK-wide frameworks, but Sinn Féin said that will give Westminster the power to overrule the Assembly.
A UK government spokeswoman said the claims were "totally wrong".
She added that the secretary of state remains "fully committed" to restoring devolution in Northern Ireland, "particularly in the context of Brexit".
However, she said that without an Executive the government would "take through the necessary legislation to ensure a functioning statute book in Northern Ireland".
Sinn Féin was briefed by officials from the Northern Ireland Office on Wednesday.
MLA Máirtín Ó Muilleoir said: "While powers in devolved policy areas such as agriculture and the environment are to be transferred to the Assembly as part of the Withdrawal Bill, the British Government is adamant it can overrule the Assembly.
"This blatant power-grab is completely counter to the Good Friday Agreement and is the outworking of the toxic Tory-DUP deal."."
These arguments have already been had in Scotland and, to a lesser extent, Wales.
They focus on how common frameworks will be set up and who has the final say over them if ministers fail to agree.
UK ministers said that some areas are so important that in the first few years after Brexit, they can't afford splits in that "internal market" over things like food standards.
They argue that if there is not agreement on a shared area, someone has to make a decision - and that should be the Westminster parliament, acting for the UK as a whole.
Scottish ministers describe this is a "power grab", leaving Westminster free to impose its will on Holyrood.
The Scottish government has passed its own legislation on the matter which is due to be challenged by the UK government at the Supreme Court.
According to analysis conducted by the government, there are a total of 141 distinct policy areas where EU law intersects with devolved powers in Northern Ireland.