Downing Street rejects defence secretary's NI amnesty call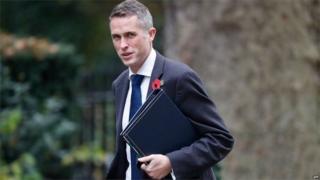 The government has rejected a suggestion from the defence secretary that there could be an amnesty for all Troubles-related killings.
Writing to the prime minister, Gavin Williamson said if a so-called statute of limitations for former soldiers meant a wider amnesty "so be it".
A Number Ten spokesman dismissed the call after the letter was published in the Sun newspaper.
Downing Street said a debt of gratitude was owed to police and soldiers.
Paying tribute to the "heroism and bravery" of the security forces during the Troubles, it said they "upheld the rule of law and were themselves accountable to it," adding:
"The current system in Northern Ireland isn't working; not for soldiers, not for police officers and not for victims. It needs to change to ensure our armed forces and police officers are not unfairly treated.
"We focus on the hundreds of unsolved terrorist murders. We cannot countenance a proposal where amnesties would be provided to terrorists."
PSNI Chief Constable George Hamilton said official figures show that investigations are not unfairly focused on the armed forces and police.
The idea of a statute of limitations for former soldiers is backed by many Conservative back-benchers, including some who served in Northern Ireland.
But it was withdrawn from a legacy consultation document published in May even though Theresa May has claimed the system for investigating the past is "patently unfair."
'Protection'
In his letter to the Prime Minister and reported in the Sun Gavin Williamson wrote: "It is clear to me that our veterans need the protection of a statute of limitations in respect of Troubles-related offences.
"If this means a wider amnesty, so be it: in the public mind the effect of the Good Friday Agreement sentencing reforms, the "On the Run" letters, which inadvertently led to the failure of the prosecution of John Downey for the 1982 Hyde Park bombings, and the apparent disproportionate focus of the current investigation on security forces amount to a de facto amnesty for terrorists already.
"It is time to give our veterans the protection they deserve."
DUP support
The DUP has been championing the cause of those former members of the security forces. A number of its MPs, including Sir Jeffrey Donaldson and Gavin Robinson, have spoken in favour of a statute of limitations.
But the party leader Arlene Foster has said she is concerned that any de facto amnesty for members of the security forces could raise the prospect that it would have to include republicans and loyalists.
Responding to what Gavin Williamson said, Ulster Unionist MLA Doug Beattie - himself a former soldier - called on Arlene Foster to clarify the DUP position claiming it is a "picture of confusion."