Former Irish Labour Senator Máiría Cahill joins SDLP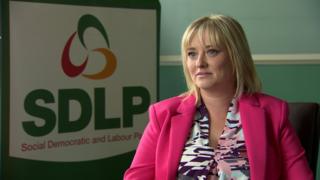 Former Irish Labour Senator Máiría Cahill has joined the SDLP, the BBC has learned. She is to be co-opted as a councillor for the party in Lisburn and Castlereagh.
She described it as "natural move" as she shares many of the same values as the SDLP around social justice.
Ms Cahill will replace former councillor Christine Robb who recently stepped down.
"I don't think people will be shocked by this move" she said.
"I have worked very closely with the SDLP in west Belfast on community and social issues and have voted for the party there in the past."
It will be Ms Cahill's first move into politics in Northern Ireland having previously served as a senator for the Labour Party in the Republic of Ireland.
She did not seek re-election.
'Regretted' joining RNU
She said she remains a proud member of Labour - the SDLP's sister party.
Ms Cahill was also once a member of Republican Network for Unity (RNU) - a group opposed to the Good Friday Agreement.
But she later said she regretted joining that organisation.
Eight years ago she went public with claims republicans covered up her alleged rape by an IRA member.
She claimed the IRA forced her to confront her alleged rapist before forcing her into silence to protect the republican movement from her claims.
The IRA man she accused denied the allegation and Sinn Féin denied the cover up.
Unionist engagement
Ms Cahill said she was now looking forward to serving the people of Lisburn and Castlereagh and building on the good relations she has forged with unionists.
"I'm not going in as a nationalist councillor just to represent people from a nationalist tradition.
"I do want to reach out and believe very strongly in reconciliation and respect, they are not buzz words you throw out at election.
"I can do proper work on the ground and I hope people from the unionist community will see that as a positive step," she said.
She also revealed the SDLP's move to allow a conscience vote on abortion reform was one of the factors in her decision to join the party.
She is pro-choice but respects the rights of others to make their own decisions.
"I come from the tradition that I don't want to judge anyone without walking a mile in their shoes," she said.
Asked about ambitions to one day become an SDLP Assembly member at Stormont, she said: "I ruled that out in the past and I'm ruling that out now too."
She also revealed that she has yet to decide if she will contest the council elections next year.