Bombardier records £15m NI loss in 2017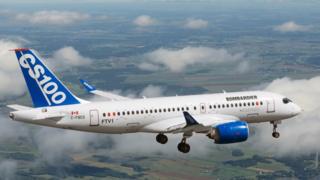 Bombardier has recorded a $20m (£15m) operating loss at its Northern Ireland division in 2017.
The manufacturing company described it as a challenging year.
According to accounts, a swing from a profit of $133m (£100m) in 2016 was blamed on reduced sales and "cost competitiveness issues."
However, two tie-ups with Airbus will "help create security for the long-term future of the Belfast operation."
Bombardier, which is registered as Short Brothers PLC in Northern Ireland, employs around 4,000 people in Belfast.
The Belfast operation makes wings for the CSeries commercial passenger plane.
Airbus has recently taken a majority stake in the aircraft programme and believes it can boost sales to airlines.
Another deal with Airbus is also important in Belfast's fortunes going forward.
In December, it was chosen to develop and manufacture a new engine component for Airbus's A320neo series of aircraft.
Much of last year was dominated by a trade dispute between Bombardier and Boeing.
Bombardier won the case and in its accounts it said it was "extremely grateful" for the support it received from unions, governments, customers and industry representatives.
The accounts, which have just been lodged at Companies House, show its highest paid director received a salary of around £400,000.