MPs resign vice-chair roles in protest at NI 'backstop'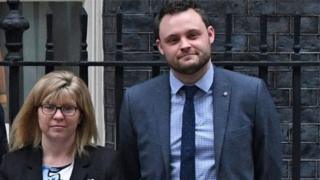 Two MPs have resigned their positions in the Conservative party, criticising the prime minister's policy on a Brexit 'backstop' for Northern Ireland.
Ben Bradley and Maria Caulfield were two of the party's vice-chairs.
The backstop is the arrangement which will apply if the border cannot be kept as frictionless as it is now in the context of a wider Brexit deal.
Ms Caulfield said it was "neither necessary or constructive" and is being used by the EU to block a deal.
In his resignation letter, Mr Bradley said the backstop cannot be allowed to determine the whole of the UK's economy and trade policies.
Cabinet row
In December the UK and EU agreed that a backstop plan was necessary to guarantee there would be no hardening of the border.
The EU has proposed a backstop that would mean Northern Ireland staying in the EU customs union, large parts of the single market and the EU VAT system.
The government has rejected that proposal as a threat to the integrity of the United Kingdom.
Instead, Prime Minister Theresa May has brought forward a Brexit plan which she hopes will mean the backstop will never have to be used.
That plan, which was presented to her cabinet at the weekend, includes a proposal to "maintain a common rulebook for all goods" with the EU, including agricultural products.
The intention of that "continued harmonisation" with EU rules is to avoid friction at the UK-EU border, including Northern Ireland.
'Worst of all worlds'
However such a proposal is likely to sharply reduce the ability of the UK to strike its own meaningful trade deals.
Mr Bradley said that being tied to EU regulations "will be the worst of all worlds."
Yesterday, the former Brexit Secretary David Davis revealed he disagreed with the language on Northern Ireland used in the December agreement.
He also revealed that he was at odds with Theresa May's backstop proposal, which dealt with customs issues.
Mr Davis said in his resignation letter that the proposal "omitted the strict conditions that I requested and believed we had agreed".