Trolley used in bid to steal ATM from Downe Hospital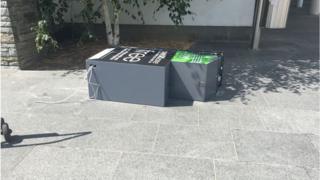 Two people have used a trolley in a bid to steal an ATM from Downe Hospital in Downpatrick.
The burglary was reported shortly after 01:30 BST on Tuesday. Police said those responsible "left empty-handed".
The South Eastern Health Trust said security staff disturbed two people trying to steal the ATM.
One of them ran off, while the other escaped in a white van they were trying to load the ATM into.
"The cash machine was installed in the main entrance hall for the convenience of patients, visitors and staff," a trust spokesperson added.
They said the incident was "an attempted crime against the local community".