Department of Education: Closures taking 'too long'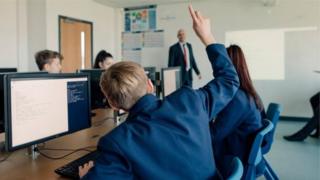 The Department of Education (DE) has said that it is taking too long to close and merge unsustainable schools.
It also estimates that there are over 50,000 empty places in schools, around a sixth of all available places.
"It is clear that there is still much to be done by the planning authorities," DE said.
The comments come in the first departmental report on the area planning process which has just been published.
Area planning is where the Education Authority (EA) works with other bodies including the Council for Catholic Maintained Schools (CCMS) and the NI Council for Integrated Education (NICIE) to plan school provision going forward.
School numbers 'not sustainable'
Earlier this year the Education Authority said it had identified 27 schools which may be closed or merge.
In many areas there are too many school places for the number of pupils, while in other areas there are not enough places.
While DE said that area planning was a complex process, it added that "the pace of change has been slow."
"The current network of schools is not sustainable," it said.
"Real change will not be achieved unless there is a collective agreement that the pace is accelerated to ensure every child in Northern Ireland has access to quality education in a sustainable school."
The former education minister Peter Weir had previously said there were too many small schools here.
In its repor,t DE said that those previously stated ministerial priorities "are not being meaningfully addressed."
It also said the number of approved development proposals - which can propose closure, merger or changes in pupil numbers at a school - had fallen sharply in recent years.
53 were approved in 2015/16, compared to 23 in 2016/17 and 27 in 2017/18.
The financial position of a school and how many pupils it has can be used to decide if a school is sustainable or not.
Parts of policy 'outdated'
The Department of Education's (DE) policy on sustainable schools states that primary schools should have 140 pupils in urban areas and 105 in rural areas.
Of the 817 primary schools in Northern Ireland in 2017/18, 233 had fewer than 105 pupils.
Meanwhile, 77 out of 199 post-primary schools had fewer than 500 pupils - the minimum number recommended by the DE.
Almost a third of sixth forms had fewer than 100 pupils, again the minimum recommended number.
Other factors in deciding if a school is sustainable are quality of educational experience, strong leadership, accessibility and strong links with the community.
In the report, DE said that they wanted to review their own sustainable schools policy as parts were "considered to be outdated."
That is something which has previously been called for by the Public Accounts Committee.
However, any significant changes to the policy would require ministerial approval.