Airbus A220: Belfast plant boosted by airline order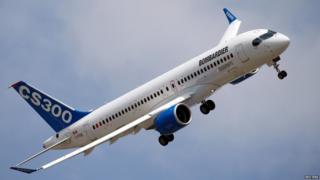 The US airline JetBlue has ordered up to 120 Airbus A220 planes.
The wings for the A220, which was formerly known as the Bombardier CSeries, are made in Belfast.
It is the first major order for the plane since Airbus acquired a majority stake in what was the CSeries project. About 1,000 staff work at the A220 factory in Belfast.
JetBlue has ordered 60 Airbus A220-300 aircraft for delivery at the beginning of 2020.
It also has an option for 60 additional aircraft beginning in 2025.
"We are evolving our fleet for the future of JetBlue, and the A220-300's impressive range and economics offer us flexibility and support our key financial and operating priorities," said Robin Hayes, chief executive officer of JetBlue.