Independent Unionist peer Lord Laird dies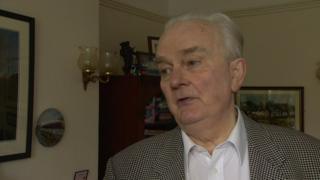 Independent unionist peer Lord Laird has died at the age of 74.
Lord Laird was a former Ulster Unionist but resigned from the party five years ago after being accused of breaking parliamentary rules.
He became Stormont's youngest MP in 1970 when he won a by-election caused by the death of his father.
Ulster Unionist leader Robin Swann paid tribute to the "larger-than-life character, who cared deeply for Northern Ireland".
"My deepest sympathies go to Lord Laird's family and in particular his wife Carol and his children, Alison and David.
"He will be sadly missed by his family and wide circle of friends," he added.
An extrovert figure
by Mark Devenport, BBC News NI political editor
Lord Laird left his impression on the world of both politics and public relations.
He was an enthusiastic proponent of Ulster-Scots culture, but attracted negative publicity in 2005 when it was revealed he'd spent more than £2,500 of public money on taxis between Belfast and Dublin whilst head of the Ulster-Scots Agency.
He explained he had to attend many functions in his kilt and could have attracted unwanted attention if he had used public transport.
In 2013, Lord Laird was targeted by a BBC Panorama investigation into lobbying - he was found guilty of breaking the parliamentary rules by being prepared to set up an all-party group in return for payment or other reward.
He was suspended from the Lords for four months and resigned from the Ulster Unionists.
He continued to sit in the Lords as an independent, but said poor health was making it increasingly difficult for him to speak in debates or cast his vote.
Ulster Unionist peer Lord Rogan said Lord Laird was a "lifelong friend and unionist".
"He was a great stalwart for Northern Ireland and I deeply regret his passing," he said.
Lord Empey, the Ulster Unionist Party's chairman, said Lord Laird had a "lifetime commitment to unionism and Ulster-Scots culture which he demonstrated in his own colourful and flamboyant way".
The DUP leader Arlene Foster sent her condolences to the Laird family: "It is very poignant that he should pass away at this time of year and I am very sorry to hear of his passing.
"He never shied away from speaking his mind whether inside or outside the House of Lords and was never afraid to speak up for Unionism."