BBC's Stephen Nolan earned more than £400,000 last year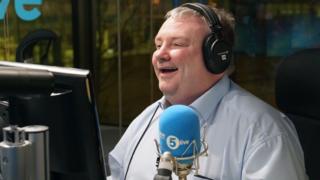 The BBC presenter Stephen Nolan earned between £400,000 and £409,999 in 2017-18.
The figure is contained in the BBC's latest annual report, which gives details of the pay of 64 of the broadcaster's top earning stars.
It also reveals that Mr Nolan presented about 380 programmes on television and radio during 2017-18.
Gary Lineker topped the list of the BBC's best paid stars, earning around £1.75m during the year.
Claudia Winkelman was the highest paid female presenter, earning between £370,000 and £379,999.
The director of BBC Northern Ireland Peter Johnston was paid between £150,000 and £159,999 during the year.
'Nolan's 210 radio shows'
Under the terms of the BBC's charter it has to publish the pay details of those who earn more than £150,000 a year from the licence fee.
In 2017-18 those details are given in bands of £10,000 instead of £50,000 pay bands as in the previous year.
The BBC also states how many programmes its highest paid presenters worked on during the year.
Stephen Nolan presented about 210 programmes on BBC Radio Ulster, 150 on BBC Radio 5 Live and 20 editions of the television show Nolan Live.
Details of the pay of stars working on programmes for BBC Studios - the corporation's commercial arm - are not included in the new figures.
Payments from independent producers are also excluded.
'Highest audiences'
The report also reveals a slight fall in the proportion of money spent on making network television programmes in Northern Ireland for the BBC.
In 2017-18 the BBC spent 2.4% of its overall network television expenditure in Northern Ireland, compared with 3.1% the previous year.
Programmes made for network television during the year included Line of Duty 4, Pablo and Come Home.
The amount the BBC spent on Northern Ireland specific services through the year rose by over £1m from £53.3m in 2017 to an estimated £54.6m in 2018.
The BBC estimates it will collect £101m from the licence fee in Northern Ireland in 2018, while spending £88.9m on production and services in the region.
The report shows that BBC News NI - including BBC Newsline and BBC radio current affairs - attract some of the highest audiences in the UK compared with other nations and regions.
For instance, BBC News NI attracted an average of 1.98m weekly browsers in 2017-18, an increase of 11% on 2016-17.
BBC Northern Ireland also produced 312 hours of news and current affairs television programmes in 2017-18, while BBC Radio Ulster and BBC Radio Foyle broadcast a joint total of 63 hours of news and current affairs programmes every week.