Northern Ireland disorder sees cars hijacked and torched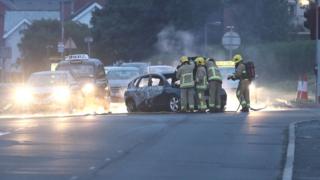 Vehicles have been stolen and torched in Northern Ireland during disorder linked to loyalist bonfires.
A suspected pipe bomb also exploded close to a police operation to remove a contentious bonfire site in Belfast.
It came as police warned that loyalist paramilitaries were planning to "orchestrate and participate in serious disorder" in east Belfast.
Meanwhile, there was also another night of disorder in Londonderry, where petrol bombs and missiles were thrown.
The incidents on the outskirts of Belfast came after loyalists expressed anger at plans to reduce the size of two bonfire sites over safety fears.
Masked men used burning cars to block roads close to the Ulster Hospital in Dundonald, east Belfast.
In nearby Newtownards, a bus with passengers on board was hijacked by a group of masked men, one carrying a suspected firearm, before being set alight.
Part of the Lower Newtownards Road was closed in the early hours while police examined a hijacked car, but the area later reopened.
Other security alerts resulted in main roads being closed, while one incident prevented passengers leaving Belfast City Airport.
Police say in total 13 cars and a bus were burnt out in east Belfast and Newtownards but there was less violence than in previous years.
Bonfires are traditionally lit in many loyalist areas of Northern Ireland on the Eleventh Night to mark the anniversary of the Protestant King William's victory over the Catholic King James II at the Battle of the Boyne in 1690.
Hundreds of fires were lit at midnight to usher in the traditional Twelfth of July Orange parades in the region.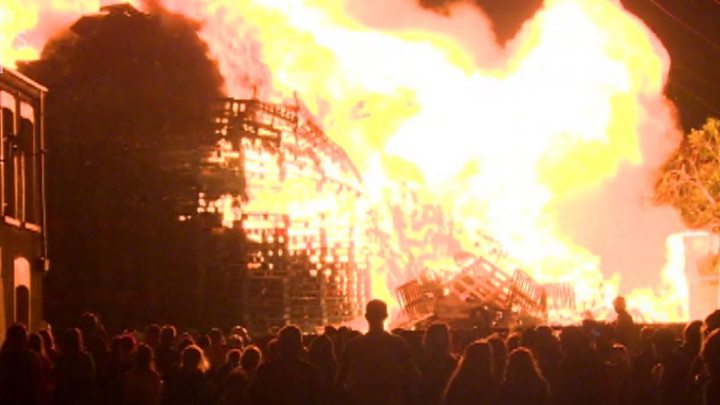 Loyalists claimed they had taken steps to minimise risk to buildings this year and saw attempts to restrict bonfires as attacks on their culture.
On Tuesday, a court ordered that a bonfire in Bloomfield, east Belfast, be reduced in size.
However, it was set alight in the early hours of Wednesday morning and missiles were thrown at police when they moved in to secure the site to allow contractors to remove material.
The Northern Ireland Fire and Rescue Service said it had received 327 emergency calls by 01:00 BST on Thursday.
It said there had been "164 operational incidents" of which 57 were bonfire related.
In Londonderry, youths threw petrol bombs and missiles at police stationed on the city's historic walls on Wednesday night. Two suspect devices were also left.
A strong police presence, including officers in full riot gear, have been on stand-by in the area between the nationalist Bogside area and the nearby unionist Fountain estate.
The latest disturbances came a day after dissident republicans were blamed for firing six shots at police with an automatic weapon in the area - the police are treating the incident as attempted murder.
Leaders of the main political parties in Northern Ireland have come together to condemn the recent violence and call for calm.