Medical cannabis use 'should be legalised' in Northern Ireland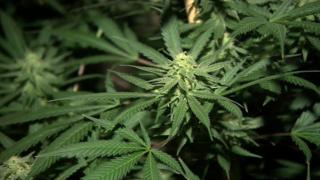 A neurologist has called for the government to give medicinal cannabis users easier, legal access to the drug.
Professor Mike Barnes comments come after Sophia Gibson was admitted into intensive care on Wednesday after a seizure.
The seven-year-old from Newtownards, County Down, suffers from a genetic condition which can lead to frequent fits.
Prof Barnes said she needed access to medicinal cannabis oil 'urgently'.
"Sophia has made a little bit of recovery. The danger time is now over but she still needs to the medicine urgently," he told the Today programme.
Sophia's family are waiting for the government to decide whether she can be legally treated with medicinal cannabis oil.
Her parents, Danielle and Darren, said the medication relieves the symptoms of Dravet syndrome, a severe form of epilepsy.
Prof Barnes, who is a director of Christchurch Group Neurological Rehabilitation, made an application on behalf of Sophia to the specialist cannabis panel set up by the home secretary to get a licence for the medicine.
Both Prof Barnes and Sophia's family are currently awaiting a decision from the panel.
'Criminalising'
Prof Barnes criticised the government's current approach to medicinal cannabis and described the "hurdles" many patients have to cross.
He said: "Cannabis has to be a medicine of a last resort, you have to prove that nothing else available has worked. It doesn't need to be a last choice, it could be second or third choice for many people.
"And you have to show evidence that it has been used and been helpful which implies that people have got to have gone abroad and have tried it.
"Or it has to have gone through a clinical trial which is very difficult as it's still illegal. So the sooner we can get rid of those two hurdles, the more readily available medicinal cannabis will be.
He added: "We know now that tens of thousands of people are already using cannabis illegally for medical purposes.
"It's time we made it a little bit easier for them to get it legally and stop criminalising them."
Billy Caldwell
The panel was set up by the home secretary after a number of high-profile cases of children with severe epilepsy being denied access to cannabis oil to control seizures.
Billy Caldwell from Castlederg was granted an emergency licence by the Deparment of Health allowing doctors in Belfast to treat him with medicinal cannabis.