Heatwave sunburn: 220 people treated in NI hospitals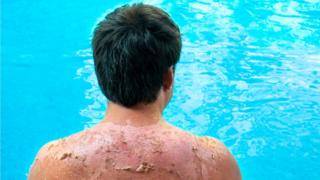 More than 200 people were treated for sunburn in Northern Ireland hospitals during the recent heatwave.
The Belfast Trust saw the highest number of patients, with 69 needing treatment for sun-related issues.
The Health and Social Care Board (HSCB) said the extra patients added pressure to the local health service.
The Public Health Agency has warned that one episode of sunburn could double the risk of malignant melanoma, the most serious form of skin cancer.
The significantly higher number of patients in the Belfast Trust reflects those who sought treatment at Belfast City, Royal Victoria and Mater hospitals.
The HSCB urged people to be careful in the sun, reminding them that emergency and 999 services were for life-threatening and serious conditions.
"By choosing the right care for you, this will help ensure that emergency departments are used appropriately and ease pressures on the service," said the board.
Many common ailments can be treated effectively through self-care at home or by seeking advice from a pharmacist, it added.
"However, those with serious concerns about their health should of course always consult their GP or an out-of-hours service."
"Being active and having fun outside is good for our health," said the PHA's senior health improvement officer, Denise McCallion.
"Not only can it lift our mood and allow us to get more active, but it provides Vitamin D, an essential vitamin for everyone to help develop and maintain healthy bones, teeth and muscles.
"But for most people, just a few minutes' exposure to the sun is enough to top up vitamin D levels, she added, and the sun could cause permanent skin damage if precautions are not taken.
"Just one episode of sunburn, especially in childhood, doubles the lifetime risk of malignant melanoma, the most serious form of skin cancer."
---
Steps to avoid sunburn
Use sunscreen with a minimum SPF of 15 for UVB protection and 4-star for UVA protection; apply liberally 30 minutes before going out in the Sun and re-apply at least every two hours
Know the UV index and, if it is more than three, protect your skin and eyes
Seek shade when the sun is at its strongest, generally between 11:00 and 15:00 BST
Wear a long-sleeved T-shirt and a hat in the Sun
Wear sunglasses that have either CE or British Standard (BS) marks, a UV 400 label and offer 100% UV protection
---
Northern Ireland experienced an unprecedented period of prolonged warm weather this year.
On 19 June, temperatures reached 30.1C in Castlederg, County Tyrone and 29.3C in Derrylin, County Fermanagh.
The hottest temperature ever recorded in Northern Ireland was 30.8C in Knockarevan, County Fermanagh in 1976 and Shaw's Bridge in Belfast in 1983.
On Thursday, NI Water lifted a three-week domestic hosepipe ban which had prevented people from washing cars, filling pools, or sprinkling gardens, after supply failures hit some areas.
Demand for water had dropped from almost three quarters of a billion litres per day (which was 30% more than average) to "near normal levels", it said.
A month-long hosepipe ban is currently in force in the Republic of Ireland, where Irish Water has also introduced night-time supply interruptions to manage demand.
The Northern Ireland Fire and Rescue Service has been far busier than usual this summer due to the exceptional weather and a large number of gorse fires.